Fitzroy Island is a lush, unspoilt, tropical island paradise that is located just a short 45 minute boat ride away from Cairns in North Queensland.
No matter what you're into you'll find everything you need right at your front doorstep, whether it be relaxing by the pool with a cold, tropical cocktail or diving into adventure activities with hiking, snorkelling, fishing, sea kayaking and more.
Fitzroy Island offers unbeatable combination of leisure and excitement, all within this amazing natural landscape where the rainforest meets the reef. Here are just some of the activities you can enjoy whilst on Fitzroy Island.
Diving
The Fitzroy Island Sports Hub is a PADI accredited centre where, no matter your scuba skill level, you can experience the wonder of diving safe introductory dives. With qualified and highly experienced instructors you can get comfortable underwater with a dive in the dedicated dive  pool before heading out to the sheltered reefs just offshore.
For those of you who want to get your diving certification there are PADI certified courses and for qualified divers and a number of island reefs that you can explore either close to shore or from the resort tender. Fitzroy Island also has night dives available that can be spectacular in the right moon phase.
Find out more about the different scuba diving opportunities at Fitzroy Island here. 
Snorkelling
Fringed by abundant fringing coral reefs, Fitzroy Island is a snorkeler's paradise. Explore the warm, clear blue waters and swim amongst the tropical fish and marine life, which include the always popular clownfish and sea turtles.
The resort activities centre has everything you need available for hire and the sheltered beaches offer a safe and scenic area to immerse yourself in this rich underwater world.
Find out more about the Fitzroy Island Sports Hub and how you can hire snorkel gear when you arrive.
Stand Up Paddle Boarding
Another water activity gaining in popularity in Australia is stand up paddle boarding (SUP).  It is a bit of a workout, but you can do this in basically any body of water.  Because of the close proximity of the reef – literally metres from the short of Fitzroy Island – you can explore this wonder super close to the island.
Once you get the hang of it, you float and paddle your way above the gorgeous coral gardens below you.  It's a pretty unique way to explore the Great Barrier Reef, and you'll find that you'll be able to get into some harder to reach places that you can't get to by foot or boat.
You can hire gear from the island's Activities Centre, and you can also chat to the friendly staff about guided SUP boarding tours.
Hiking
Fitzroy Island offers a number of scenic National Park hiking trails for all ages and levels of fitness. The 339 hectare island has a rich array of flora and fauna all nestled within the islands various landscapes.
There is 5 minute walking tracks to explore as well as distances ranging from 30 minute walks to 3 hrs hikes. Here are some of the popular walks:
Secret Garden Track 1km return – 45 mins
Explore the western edge of the jetty, taking in the giant granite boulders and lush tropical rainforest.
Nudey Beach Track 1km return – 45 mins
A nice leisurely walk, the Nudey Beach Track takes you through tropical rainforest and coastal woodlands before opening onto a stunning award winning white coral beach.
Nudey Beach was voted Australia's #2 best beach and here you'll find calm blue waters, perfect for swimming, snorkelling or just relaxing on the beach.
Boulder Lookout 300m return – 30 minutes
Walking east from the Fitzroy Island jetty you'll come to the beginning of boulder trail. This short walk has some steep steps you'll need to navigate before reaching the vast panoramic views that stretch from Cairns to Cape Grafton. This is also the beginning of the Summit Track.
Lighthouse Road 3.6km return – 2 hrs
Trekking along the steep concrete road coming from the north-eastern point of Welcome Bay, the Lighthouse Road Walk passes many great viewing platforms as you make your way to the lighthouse. When the ranger is on duty you can enjoy 360 degree views of the Fitzroy Island and the surrounding Coral Sea. A very worthwhile walk for those who are happy to work up a good sweat.
Summit Track 2.6km return – 3hrs
This walk is recommended for fit walkers only as it passes over very steep terrain. Starting by heading up the Boulder Trail from behind the jetty, Summit Track takes in tropical rainforest and coastal woodlands before opening out to stunning views of the island and surrounding ocean.
Boating
For private boats Fitzroy Island provides safe anchorage facilities, with 8 A class public moorings. Monohulls with a maximum length of 10m and multihulls with a maximum length of 9m can use the A class moorings. Fitzroy Island is very protective of its marine park so it's asked that you only anchor on the sand and avoid shallow beach access to the island.
The island is the perfect launching pad for day trips to neighbouring islands and the outer reef. For more information visit the Fitzroy Island Government Parks Website.
Fishing
The waters surrounding Fitzroy Island are rich with sea life and provide abundant fishing opportunities. Although as it is a national park the waters are subject to strict zoning and boundary conditions to protect this World Heritage Site. You can find detailed information on zoning, bag and size limits from the Great Barrier Reef Marine Park Authority website.
Turtle Rehabilitation Centre
The Fitzroy Island Turtle Rehabilitation Centre is a world-class rehab centre dedicated to the rescue, care, maintenance and feeding of the sick and injured turtles.
The centre has now opened its doors to daily tours where you can see the turtles, learn more about them and see the great work these dedicated carers are doing to help bring these turtles back to full health.
Tours can only be booked on the day so be sure to get in fast, once you arrive, to avoid disappointment. To find out more about the Turtle Rehabilitation Centre and the turtles currently under care visit the Turtle Rehabilitation Centre.
Glass Bottom Boat Tour
Take in the beauty of the surrounding reefs and clear waters from the safety of a glass bottom boat tour. This is ideal for people who want to stay dry or families with small children who want to get a glimpse of this amazing underwater world, and learn more about the marine life that inhabit this coastal paradise.
Glass Bottom Boat Tours depart twice a day around the sheltered waters around Fitzroy Island where you'll see soft coral and marine life including wild sea turtles.
To book a Glass Bottom Boat Tour click here.
Sea Kayaking
Sea Kayaking is an ideal way to explore the surrounding waters and take in the beauty of the great Barrier Reef. Kayaks offer exclusive access to private beaches and snorkelling locations that can't be reach by foot or boat, so you escape to your own tropical wonderland for an hour or two.
Additional charges may apply to some activities, for bookings please visit the Tour Desk located in the Resort Reception and find out more about our Kayak and Snorkel Hire including prices.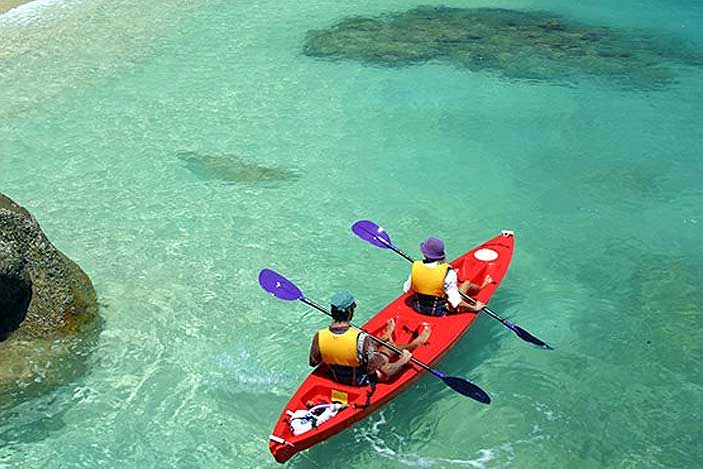 Foxy's Bar
Foxy's is a large Pacific Islands bar situated right on the beach front, about 100 metres from the resort buildings. Foxy's has plenty of inside and outside seating, a dance floor and pool tables. It's the perfect place for sunset drinks at overlooking Welcome Bay and our most popular spot at 5pm!
Foxy's has an excellent casual cafe style food menu including kids meals and provides a wide range of beers, wine and soft drinks plus a cocktail menu and the essential cappuccino!
Book Your Visit To Fitzroy Island
If you're looking to stay at Fitzroy Island then don't forget to check out the great accommodation deals and packages we have available. The best available prices are guaranteed when you book direct with Fitzroy Island Resort.
If you're looking to come just for a day trip then find out all the information you need on how to get to Fitzroy Island and how you can book your trip on the Fast Cat Ferry from Cairns.