Home to more than 600 different species of fascinating hard and soft corals and 2,900 individual coral reefs, it's not hard to believe that more than two million visitors from all over Australia and around the world travel to Queensland to explore the breathtaking Great Barrier Reef.
If you are planning a visit to the Great Barrier Reef, you are likely wondering the best ways to explore this enormous natural structure (the largest found anywhere on planet Earth!). In this article, we shall introduce you to seven different ways you can explore the Reef, no matter how adventurous you are or aren't. From the popular choices of snorkelling and scuba diving, to unique experiences such as the Scuba Doo and Seawalker, there is something for all ages, fitness levels and varying degrees of confidence when it comes to water activities.
With over 1,600 species of tropical fish and larger fauna such as giant rays and marine turtles calling the Reef home, no matter how you choose to explore the Great Barrier Reef,  you are bound to create amazing memories you will remember forever.
Let's take a look now at seven amazing ways you can explore Australia's Great Barrier Reef.
Snorkelling
Snorkelling is far and above the most popular way to explore the exquisite sea life of the Great Barrier Reef. Whether you choose to take part in a tour to the Outer Reef or snorkel straight off the shore of one of the many stunning tropical islands surrounded by the Reef, you can't go wrong exploring via this means.
Popping on your snorkel, mask and fins at the water's edge and gliding out from an island's shore straight out onto the Great Barrier Reef is truly one of the most magnificent experiences imaginable. The spectacular tropical island paradise of Fitzroy Island (located just off the coast of Cairns) is the perfect choice for travellers to the region, whether you have just the day up your sleeve to snorkel the reef that surrounds the island, or time to relax and unwind by staying at Fitzroy Island's very own resort.
While snorkelling the reef that surrounds Fitzroy Island, you shall have the chance to admire marine turtles, gorgeous tropical fish (including Nemo!), giant clams and a number of different coral species. All relevant gear can be hired from the Fitzroy Island Activities Centre.
Glass Bottom Boat Tour
A glass bottom boat tour is a fantastic option for exploring the Great Barrier Reef if you are not overly confident swimming in the ocean or prefer to stay dry. It is also well suited to families with young children. A number of tour operators that venture to the Outer Reef include a glass bottom boat experience as part of your ticket; or, choose to explore the exquisite reefs that surround a tropical island via a glass bottom boat tour.
Scuba Diving
Scuba diving amongst the beauty of the Great Barrier Reef is an experience like no other, whether you join a local tour operator and explore the Outer Reef (such as the popular Agincourt Reef), or explore the fringing reefs of a gorgeous tropical island, such as Fitzroy Island.
Regardless of whether you have lots of experience up your sleeve or it is your first time trying the activity, scuba diving in this part of the world is an experience you will never forget!
Seawalker
Are you chasing something completely out of the ordinary when it comes to exploring the magic of the Great Barrier Reef? Then the Seawalker experience may be for you! Wearing a clear and fully enclosed diving helmet (leaving your head completely dry), you can gently walk along the ocean floor while taking in the exquisite beauty of the Great Barrier Reef around you.
If you don't have a lot of confidence or experience swimming and/or being in the ocean, this experience is particularly suitable. There is no need to learn how to operate complex equipment (when compared to scuba diving, for example) and your diving helmet is connected to an oxygen supply from above the water's surface. Additionally, if you happen to wear either glasses or contact lenses, you can wear them with ease in the dry comfort and safety of your diving helmet.
Your underwater adventure (held roughly 4 to 5 metres below the ocean's surface, alongside your experienced guide) lasts for 15 to 20 minutes and is available off the coast of Cairns at Green Island and via local tour provider, Sunlover Reef Cruises.
Scuba Doo
The Scuba Doo experience is like no other when it comes to exploring the Great Barrier Reef. Uniquely offered by a local tour company, Great Adventures, this experience is available just off the coast of Cairns and involves riding a scuba-style scooter, hence the name!
Similar to the Seawalker experience, your Scuba Doo adventure, held 4m below the surface, involves wearing a viewing dome which keeps your head (in addition to your shoulders) completely dry. This means you can comfortably wear your contact lenses or glasses throughout the experience. Riding a Scuba Doo is also well suited to participants with little experience swimming.
Your yellow motorised scooter has an air tank which is pre-fixed to your scooter, and your scooter is supported by a float above the ocean's surface. All you need to do it sit back and cruise around the reef for roughly 20 minutes at speeds of up to 2.5 knots, taking in the mesmerising coral, tropical fish and other sea life around you. You can relax knowing you shall be accompanied by an experienced guide.
Image Credit: greatadventures.com.au
Sea Kayaking
Sea kayaking is not only loads of fun and a perfect way to get in some enjoyable exercise, it is another fabulous option for exploring the Great Barrier Reef without having to get particularly wet (as is the case for snorkelling or scuba diving). A glass-bottom kayak is the perfect choice for viewing the incredible sea life directly below you, as you gently paddle your way around the Reef.
If you love sea kayaking or are wanting to get the most out of your experience exploring the Great Barrier Reef by kayak, consider joining a 3-hour Guided Sea Kayaking Tour, run by our experienced kayaking guide here at Fitzroy Island. You shall learn all about the animal inhabitants of the beautiful reef that surrounds the island, and if you wish, you can even snorkel at a number of smaller, private locations around the island that cannot be reached by boat nor foot. You can hope to see an array of beautiful coral and fish species (including Nemo!), giant clams and majestic marine turtles.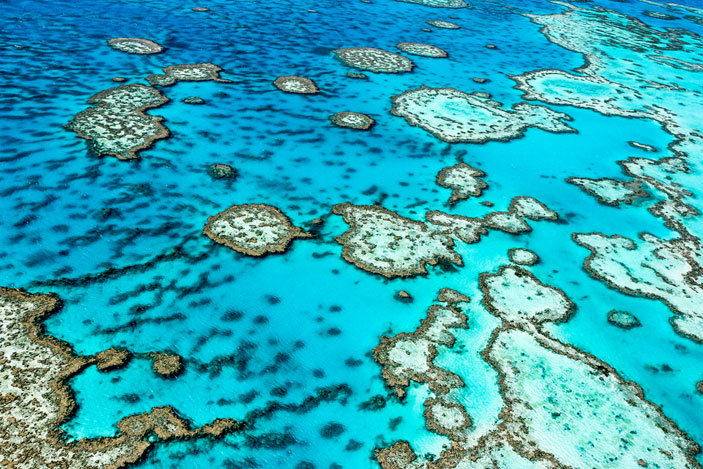 From the Air (Via Helicopter)
Another truly breathtaking and awe-inspiring way to admire the magical Great Barrier Reef is by taking a helicopter ride and exploring it from the air. You will be utterly blown away by the Reef's myriad of colours and textures when seeing it from this perspective, and can begin to appreciate just how extensive the Reef really is. A camera is an absolute must when exploring the Great Barrier Reef from above – be prepared to take some of the most incredible photos of your life!