Are you thinking about travelling to see the Great Barrier Reef? We've compiled the most comprehensive list of Great Barrier Reef facts that every traveller should know before they visit. Find out the best places to see the Great Barrier Reef, important facts on the reef and things you should see on your visit.
Great Barrier Reef Facts
Tourism to the reef generates approximately AU$5-6 billion per year.
The Great Barrier Reef is a great holiday destination for Australian families and overseas tourists.
The Great Barrier Reef is a popular travel destination with over two million visitors each year.
It is the world's largest coral reef ecosystem and covers more than 300,000 square kilometres
It was listed as a World Heritage area in 1981 and added to the National Heritage List in 2007.
The Great Barrier Reef is recognised as one of the seven natural wonders of the world.
How Big Is The Great Barrier Reef
The Great Barrier Reef is the world's largest reef system and stretches over 300,000 square kilometres (1800 miles). It's accessible from the Queensland coast, starting from the southern coastal town of Bundaberg and finishes at the most northern tip of Australia at Cape York.
The Great Barrier Reef is composed of over 2,900 individual reef.
The Great Barrier Reef has over 900 islands stretching for over 2,600 kilometres.
The Great Barrier Reef can be seen from outer space.
The Great Barrier Reef is greater in size than Tasmania and Victoria combined.
The Great Barrier Reef is greater in size than the United Kingdom, Holland and Switzerland combined.
The Great Barrier Reef is approximately the same area as Italy, Germany, Malaysia or Japan.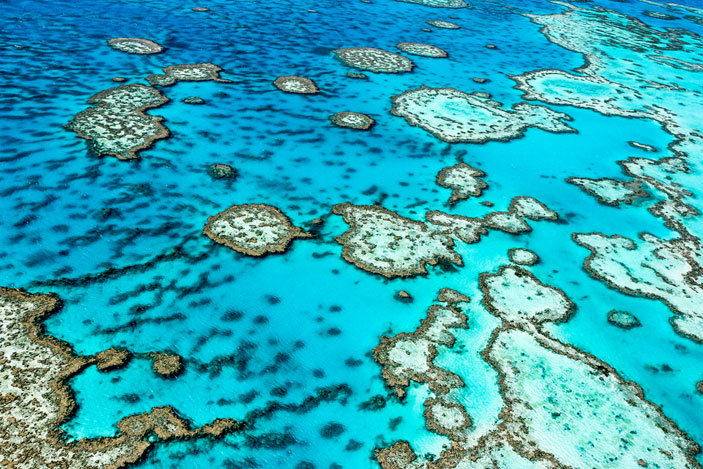 Marine Life
The Great Barrier Reef area is well known for it's amazing and rich marine life. The Great Barrier Reef is home to more than 1500 species of fish, 6 turtle species and over 4000 types of mollusc.
Thirty species of whales, dolphins, and porpoises have been recorded in the Great Barrier Reef.
Six species of sea turtles come to the reef to breed.
215 species of birds (including 22 species of seabirds and 32 species of shorebirds) visit the reef or nest or roost on the islands.
Seventeen species of sea snake live on the Great Barrier Reef.
More than 1,500 fish species live on the reef.
Around 10 percent of the world's total fish species can be found just within the Great Barrier Reef.
There are at least 330 species of ascidians on the reef system.
There are at least 200 species of bird life.
Turtle Rehabilitation Centre
If seeing a turtle is on your bucket list then October is the start of turtle season in Queensland and your best chance to see one. Although turtles are viewable all year round you can't always guarantee you'll see one.  The Fitzroy Island Turtle Rehabilitation Centre is a world-class rehab centre dedicated to the rescue, care, maintenance and feeding of the sick and injured turtles.
The centre has now opened its doors to daily tours where you can see the turtles, learn more about them and see the great work these dedicated carers are doing to help bring these turtles back to full health. If you don't want to miss out on a tour then consider staying at Fitzroy Island or taking a day trip from Cairns.
Best Places To Visit The Great Barrier Reef
Cairns
A visit to Cairns simply won't be complete without spending some time experiencing the Great Barrier Reef.
The Great Barrier Reef is easily accessible using tour operators such as Quicksilver cruises which have Fast Cats leaving from Port Douglas for a variety of half day and day tours. Buses are available from Cairns and the trip takes around an hour while travelling the picturesque Captain Cook highway which features some of the most breathtaking coastal views on your way to the Port Douglas Marina.
If you'd prefer something closer, Fitzroy Island is a 45-minute boat transfer by the Fitzroy Fast Cat (about 30kms) from Cairns and is surrounded by a reef system that forms part of the Great Barrier Reef Marine Park, making it the perfect accessible base for snorkelling and exploring the reef.
Find out how you can explore the reef at from Fitzroy Island at the Fitzroy Island Sports Hub.
Port Douglas
If you're looking to stay in Port Douglas during your time in Far North Queensland then Port Douglas is one of the primary locations for viewing The Great Barrier Reef. Port Douglas has a range of options ranging from half day, full day and day sail tours.
Quicksilver cruises have Fast Cats leaving from Port Douglas Marina daily and is a short walk or drive from Macrossan St down to the Marina. If you're not keen on getting wet then non-swimmers can explore the reef from one of the semi-submersible boats, which cruise one metre underwater (no mask required).
Sailaway offers day and half day sails to the Low Isles and the coral cay and rather than a boat or a pontoon you'll  be able to experience island time infused with the reef.
You'll have over 4.5 hours of time dedicated to snorkelling and exploring the island providing you with a strong mix of island and reef exploration.
Best Time Of Year To Travel
The Great Barrier Reef is amazing year round and the peak season is between June to October. Keep in mind that while weather conditions are ideal during this time it also features a number of school holiday periods where hotel pricing demand is likely to be much higher. At this time of year temperatures range from 25 degrees to 30 degrees and rainfall is uncommon.
The low season (known locally as the wet or stinger season) takes place between November and May and brings more rain. The stinger season starts from November to May and during this time you may need to swim in stinger enclosures as well as wear a stinger suit which will be made available to you by your tour organisers.
Winter (June – August)
Winter in Cairns brings slightly cooler temperatures and lower humidity, making it the peak tourist season. Average temperatures range from 17.5 – 26°C (63.5 – 78.8°F) and there is low rainfall.
Spring (September – November)
In spring average temperatures range from 20.5 – 29°C (68.9 – 84.2°F). This is the end of the dry season when humidity starts to build with the onset of the wet season from December. In November the reef comes alive with the annual coral spawning.
Threats To The Great Barrier Reef
Over the years threats have emerged that have threatened the future of the reef. With a combination of mankind and various natural factors there is concern from biologists and conservationists who do not want to see the demise of one of the most precious natural ecosystems destroyed.
Climate change is perhaps the biggest threat to the Great Barrier Reef.
Warmer ocean temperatures put stress on coral and lead to coral bleaching.
The Great Barrier Reef has experienced two mass coral bleaching events in 1998 and 2002. Bleaching was more severe in 2002, when aerial surveys showed that over 50% of reefs experienced some coral bleaching.
Sediment, nutrient and agriculture pesticide pollution from river catchment run-off is also affecting the health of the Great Barrier Reef.
Too much or poorly managed tourism could be a risk to the reef, fortunately tourism on the reef is very well managed at the moment.
Find out more great facts at greatbarrierreef.org