Fitzroy Island is a feast for the eyes. Picture a lush, tropical island located right in the heart of the Great Barrier Reef, just off the coast of Cairns in stunning Tropical Far North Queensland. It goes without saying that Fitzroy Island is incredibly picturesque, making it one of the most outstanding locations in Australia for taking amazing photos.
Whether you are a full-time professional photographer, or simply enjoy taking photos in stunning locations, the below spots dotted around Fitzroy Island are bound to help you produce spectacular photos of this gorgeous location.
Visit Award-winning Nudey Beach
Nudey Beach is Fitzroy Island's most spectacular beach- so spectacular in fact, that it took out first place in Australia's Top 101 Beaches Awards for 2018! Picture stunning white sand, backed by exquisite rainforest vegetation and framed with giant granite boulders, all gently sloping towards a calm and inviting, warm turquoise ocean. It's practically impossible to take a bad photo when you stumble upon the sheer beauty of Nudey Beach (featured in the hero image above)!
Enjoy the Sunset at Foxy's Bar, Welcome Bay
If you love taking photos of the sunset, you can't go wrong at Fitzroy Island. Undoubtedly, one of the finest places to shoot the sun going down is from Fitzroy Island's Pacific Islands-style bar, Foxy's Bar, located right on the beachfront at Welcome Bay. Not only is it the perfect spot from which to take magnificent photos, you can do so while enjoying a fresh tropical cocktail, beer, wine or other drink of your choice. Bliss!
Explore the Great Barrier Reef
One of the biggest draw cards for visitors to Fitzroy Island is its positioning right in the heart of the Great Barrier Reef. In fact, all you need to do is grab a snorkel, mask and fins, a kayak and paddle or other gear of your choice, and paddle straight from the water's edge right out onto the Great Barrier Reef! Be prepared to be mesmerised by the magical creatures that call the reef that surrounds Fitzroy Island home.
If underwater photography is your thing, you can't go wrong with a bit of snorkelling or scuba diving (all relevant gear is available for hire from the island's Dive and Adventure Centre) with your underwater camera. You'll have the chance to spot and photograph numerous different species of tropical fish (including clown fish), majestic turtles and rays, giant clams and coral.
Sea kayaking is another fabulous option for exploring and photographing the Great Barrier Reef. This activity gives you access to a variety of different smaller beaches and reefs located around Fitzroy Island that cannot be accessed by any other means. Consider joining a 3-Hour Guided Sea Kayaking Tour for the ultimate experience or hire a glass-bottom kayak and relevant gear from the Dive and Adventure Centre and explore at your own pace.
Explore the Island's Walking Tracks
Did you know that Fitzroy Island is 97% National Park? Fitzroy Island makes for the perfect holiday destination for nature lovers, thanks to its mix of lush tropical rainforest and beautiful coastal woodland vegetation. There are endless opportunities for incredible photographs along all of the walking tracks open to visitors on Fitzroy Island, such as the:
Nudey Beach Walk: The gentle, 15-minute long Nudey Beach track is one of Fitzroy Island's most popular trails, and for good reason! Your reward at the end is the exquisite beauty of Nudey Beach, as you emerge from the trail through the rainforest. Another reason visitors to Fitzroy Island love this track is due to its fascinating vegetation (e.g. stunning, delicate orchid species) and occasional visits from local wildlife, such as the famous Australian echidna. Photo opportunities galore!
Secret Garden Walk: The Secret Garden Walk (approximately 45 minutes in duration) is another enjoyable walk available on Fitzroy Island. This track meanders its way through the island's lush rainforest vegetation and is a fabulous choice for spotting a number of unique Fitzroy Island wildlife, such as beautiful butterflies and skinks (lizards), making for beautiful and unique photos.
Lighthouse Walk: The Lighthouse Walk is the perfect option if you're after something a little more adventurous and chasing some of the finest views from Fitzroy Island. This 3.6km return trip shall see you stopping off at a number of stunning viewing platforms along your journey and at the top, you shall be rewarded with 360-degree views of the island and the surrounding, magnificent Coral Sea – the perfect place for panoramic shots.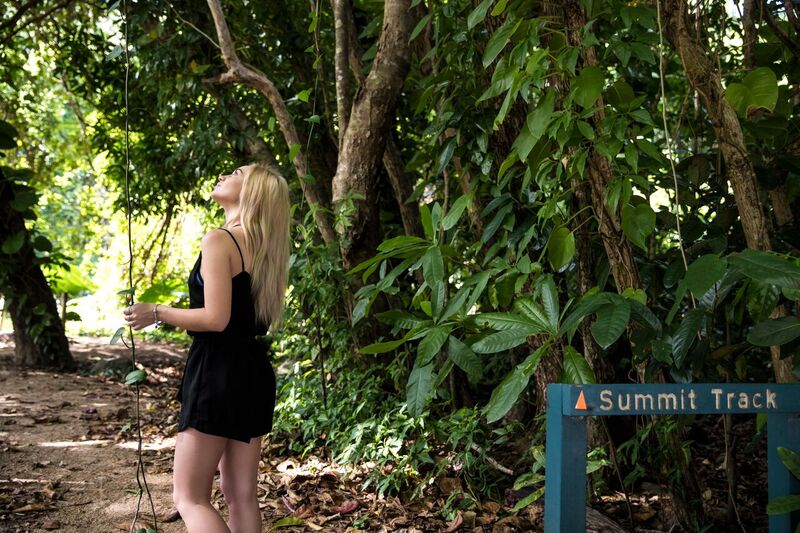 With so much to explore and capture on your camera, be sure to book in your stay at Fitzroy Island's exclusive resort, with accommodation options to suit all tastes and budgets.