Hero Image Credit: lonelyplanet.com
It is no wonder that Cairns and its surrounds in the Tropical Far North Queensland region happen to be one of the most visited areas in Australia, among international and domestic travellers alike, thanks to it being home to the Great Barrier Reef, outstanding beaches and breathtaking rainforests, in addition to its delightful tropical climate.
The lush, tropical rainforests that can be found nearby to Cairns (including the infamous Daintree Rainforest) are the oldest living rainforests found anywhere on the planet and are brimming with thousands of unique plant and animal species.
Whether it's your first time visiting Cairns or you're a seasoned traveller to the area, you simply must pay a visit to the following four beautiful rainforest locations, for stunning walks and wanders you shall never forget. Let's take a look at these spots now.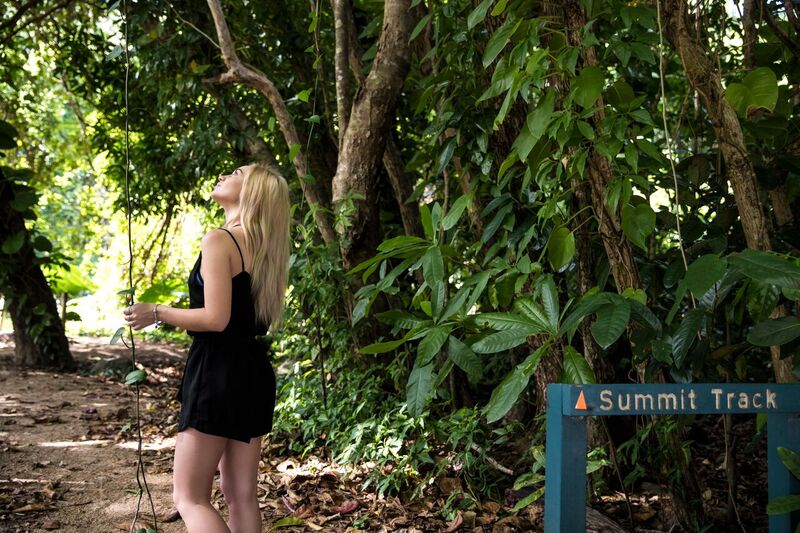 Barron Gorge National Park
Barron Gorge National Park stretches from the coastal lowlands of Lake Placid to the elevated township of Kuranda and the surrounding Atherton Tablelands. Originally formed by the Djabugai People for hunting and gathering purposes in their traditional tribal lands, the incredible network of rainforest trails found throughout Barron Gorge National Park make for a wonderful day of exploring this gorgeous part of the world.
A variety of walks are available in the Barron Gorge National Park, starting from 30 minutes long. One of the most popular tracks for exploring the park is the Douglas Track. Although this walk is much longer than lots of others in the rainforest areas surrounding Cairns, the Douglas Track is considered to be of easy to moderate difficulty (however, it requires a high level of fitness thanks to its duration). This track shall see you immersed amongst exquisite, dense rainforest vegetation, and have you wander along the coastal plains of Cairns through to the beautiful Atherton Tablelands.
Image Credit: beatmypath.com
Mossman Gorge
Mossman Gorge is one of the most popular locations nearby Cairns for exploring the region's rainforests by foot, as it is surrounded by the lush and magnificent Daintree National Park. Mossman Gorge can be reached by driving or taking a bus to the Mossman Gorge Centre, from which a shuttle bus shall take you in to the heart of the Gorge.
Mossman Gorge truly is a breathtaking sight, thanks to the crystal-clear water of Mossman River, which makes its way through mammoth, ancient granite boulders, with lush, vivid green rainforest vegetation on either side.
The Rainforest Circuit Track (easy to moderate difficulty, 45 minutes long) is one of the most popular choices for exploring the Mossman Gorge and surrounding rainforest, with other self-guided walks also available, including Baral Marrjanga, the Lower River Track and the Rex Creek Bridge Track. For a unique experience like no other, consider joining an intimate, guided Dreamtime Walk tour.
Image Credit: tropicalnorthqueensland.org.au
Mount Bartle Frere
Mount Bartle Frere is Queensland's highest mountain and is home to the stunning rainforest of the Bellenden Ker Range. This area's main walking track can be accessed from two different locations (the coast via Josephine Falls, or the west via the Atherton Tablelands) and requires a full day to explore (think 6 to 8 hours, return). This beautiful track is best explored during the dry season (May to October), thanks to being unformed and very steep.
Fitzroy Island
Fitzroy Island is a picturesque tropical island conveniently located just 45 minutes by boat from the Cairns Marina. With 97% of the island classed as national park, the island is brimming with stunning rainforest and coastal woodland vegetation, making it one of the finest places for beautiful walks (and hikes) near Cairns.
Not only is Fitzroy Island located away from the hustle and bustle of the mainland, there is something to suit everyone when it comes to walking and or/hiking the island's magnificent trails, with options to suit all fitness levels. Whether you choose to visit for just the day, or stay at the beautiful Fitzroy Island Resort, some of the island's most popular walking trails include:
Nudey Beach Track (1km return, 45 minutes duration)
Wandering along the Nudey Beach Track is a must-do activity during your visit to Fitzroy Island, not only thanks to the trail resulting in magnificent views of the island's award-winning and spectacular Nudey Beach, but also thanks to the beauty of the trail itself. This gentle, 45-minute long walk meanders its way through gorgeous rainforest and coastal woodland vegetation. Nudey Beach is Fitzroy Island's most breathtaking white coral beach, from which you can snorkel straight out onto the wondrous Great Barrier Reef!
Secret Garden Track (1km return, 45 minutes duration)
If you want to immerse yourself amongst tropical rainforest vegetation, gorgeous wildlife and Fitzroy Island's ancient, giant granite boulders, the Secret Garden Track is for you. This track leads you from the main area of the island towards the western side of the island's jetty.
Summit Track (2.6km return, 3 hours duration)
If you are looking for something a bit more adventurous, be sure to check out the Summit Track, which as it suggests, shall see you hike your way up to the top of Fitzroy Island, where you shall be rewarded with magnificent views of the island itself, as well as the gorgeous Coral Sea. This track meanders its way through a mix of beautiful rainforest and coastal woodland vegetation, and requires a high level of fitness and a minimum of three hours to complete.