When you think of Cairns and the tropical North you instantly picture beautiful pristine beaches with soft white sand, calm clear blue waters and lush palm trees. Well that's exactly what you get when you visit the beaches of Cairns and the Tropical North and there are plenty to choose from. However, some beaches stand out from the rest, so in this article we will take a look at the following beaches that we believe to be best beaches in Cairns and the Tropical North:
Trinity Beach
Palm Cove
Ellis Beach
Four Mile Beach, Port Douglas
Trinity Beach
Trinity Beach is about a 20 minute drive north of Cairns and is a favourite with the locals. It is a relaxed family friendly beach with a chilled out vibe. It is sheltered between two large headlands giving you the feeling of being sheltered away from the rest of the world. Trinity Beach is a laid back residential beach so you will have the opportunity to mingle with the locals at one of the many bars, cafes or restaurants scattered along the esplanade or take advantage of one of the free BBQ's on the beachfront.
There are plenty of accommodation options to choose from ranging from budget motels to 5 star apartments and a small shopping village where you will find everything you need including a grocery store, medical centre and post office.
Palm Cove
Palm cove is just further north from Trinity Beach and a 30 minute drive from Cairns. As the name suggests this stunning beach is fringed with swaying palm trees. Palm Cove is also a residential beach but is more of a boutique beach town with 5 star resorts and array of classy bars and restaurants along the esplanade, all nestled amongst the towering Melaleuca trees. However there are also free BBQ's along the shore front and a caravan park at the very northern end of the beach so it does cater to all budgets.
It is also the only one of the northern beaches that has a jetty which is buzzing every evening with enthusiastic locals and travellers hoping to catch dinner for the night.
Nudey Beach, Fitzroy Island
If you want to have an authentic tropical beach experience then you can't go past Nudey Beach on Fitzroy Island. Fitzroy Island is a short 45 minute boat ride from the Cairns Marina, nestled amongst the Great Barrier Reef and surrounded by stunning coral and rich colourful marine life.
The Island is covered in tropical rainforest of which 97% is listed as a protected National Park. Just a short walk from the jetty at Welcome Bay you will find Nudey Beach.
Nudey Beach was ranked No. 1 in Australia's Best Beaches Award for 2018 and is a small stretch of pristine, white sand that slopes gently into the calm, clear Coral Sea and surrounded by rainforest and granite boulders. The beach is relaxed and friendly and you can easily let time slip away as you laze on the sand and soak up the sun or snorkel amongst the coral straight from the beach.
As there is so many other things to do and see on Fitzroy Island it usually only has a few visitors at the one time so you'll feel as though you really have escaped to your own tropical Island Paradise.
Ellis Beach
Ellis Beach is the last of Cairns Northern Beaches and is separated from Palm Cove by a rocky outcrop. It is a quiet, relaxed beach compare to its bustling neighbour, giving you plenty of space to enjoy a peaceful walk along the 6 kilometre stretch of soft, squeaky sand. It is totally undeveloped with the only accommodation available being the Ellis Beach Caravan Park which sits in a prime location right on the beach front.
Across the road you will find a licensed bar/cafe nestled at the base of the rainforest with beautiful views of the beach which is the only place to eat within walking distance but well worth a visit. Ellis beach doesn't get as many visitors as other beaches in Cairns which is perfect for those who want some space and quiet time.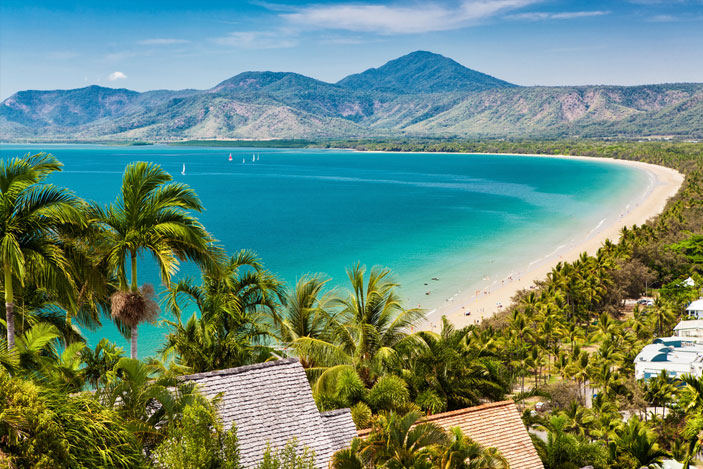 Four Mile Beach, Port Douglas
Four Mile Beach is the premier beach of Port Douglas and just a short 5 min stroll from the sophisticated and upmarket village centre. It begins at the northern rocky headland and continues for 4 miles, stretching as far as the eye can see with no buildings or developments interrupting the breathtaking surroundings.
All housing and holiday accommodation are neatly hidden away behind the dense stretch of swaying palm trees which gives you the feeling of being miles away from civilisation while still having close access to everything you need. With so much space you'll easily find your own piece of sandy paradise to relax, swim and take in the spectacular views.
Of all the beaches that make up the stunning Tropical North coastline these are undoubtedly 5 of the best. They are all breathtakingly beautiful but each one of them is unique in its own way with with what it has to offer those who are lucky enough to visit.