Tropical North Queensland is Australia's very own piece of paradise and a popular destination for holidaymakers and travellers from all over the world. For people planning an Australian tropical getaway often one of the hardest decisions is where…Cairns or Port Douglas?
Both are beautiful holiday destinations and it all comes down to what type of experience you are looking for and what is important to you when travelling. The great thing about Cairns and Port Douglas is that just because you visit one, doesn't mean you can't visit the other. It's very possible to Cairns and Port Douglas on one trip however you might want to determine which location you wish to spend the most time based on your personal preferences.
In this article we are going to compare Cairns and Port Douglas and what they have to offer in the following areas:
Adventure
Nature
Restaurants
Nightlife
Shopping
A rating out of 10 will be given for both places for each category, with the aim to help you decide which tropical paradise will be better suited to you.
ADVENTURE
Cairns: 10/10
If you love adventure then you won't be be disappointed when you arrive in Cairns. On top of the do list for all adventurists is a trip to the Great Barrier Reef. Cairns has a variety of reef boats that depart daily from the Marlin Marina offering snorkelling, scuba diving, semi-sub tours and glass bottom boat tours.
You can even take a trip out to the reef in a helicopter. If you're looking for an Island adventure then Fitzroy Island is a must. You can book all your reef adventures from the Fitzroy Island Activities Centre on Fitzroy Island including snorkelling, kayaking, paddle boards and boat tours.
Of course, your adventure in Cairns doesn't stop at the reef. There is Bungy Jumping, White Water Rafting, Skydiving, Parasailing, Jet Boats, Kuranda Skyrail and the list could go on. The only problem you will have is finding the time to fit all them all in during one trip.
If you're looking for things to do in Cairns, visit our guide.
Port Douglas 6/10
While Port Douglas doesn't have as many high paced adrenaline activities, it is still a great place to explore the reef. Port Douglas is actually closer to the outer reef than Cairns offering snorkelling, scuba diving and boating tours. If it's wildlife adventure you're after then Port Douglas is closer to the Daintree Rainforest where you can go on a Daintree River cruise to spot crocodiles in the wild. Also, Port Douglas is only a 25 minute drive to Hartley's Creek Crocodile Adventures which is the best place to get up close to wildlife in the north.
NATURE
Cairns 7/10
Although Cairns is a small city, it is a lot bigger than Port Douglas and has undergone a lot more development than it's northern neighbour. If you are staying in Cairns itself you still get the tropical vibe with Palm Trees, views of the distant mountains and the esplanade waterfront but you will need to travel further afield if you want to immerse yourself in nature. Cairns has a manmade lagoon on the esplanade as there is no actual beach in town, however, just a short 20-25 minute drive north you will find Cairns Northern Beaches.
There are many freshwater swimming holes in the rainforest surrounding Cairns which are also only a 20-25 minute drive from Cairns City. For a real nature escape head over to Fitzroy Island. 97% of the Island is National Park, covered in tropical rainforest. There are walking tracks throughout the Island taking you to peaks and valleys, coral beaches and crystal clear springs and an abundance of birds and wildlife to see along the way.
Port Douglas 9/10
Port Douglas is only an hour north of Cairns but offers a lot more of a natural environment. It has a small village atmosphere and is literally where the rainforest meets the reef. Four Mile Beach is a beautiful stretch of tropical paradise just a short stroll from the town centre and a short 5-10 minute drive will get you to some of the most refreshing rainforest watering holes in the north. Port Douglas is closer to the World Heritage Daintree Rainforest and a short drive to the breathtaking Mossman Gorge.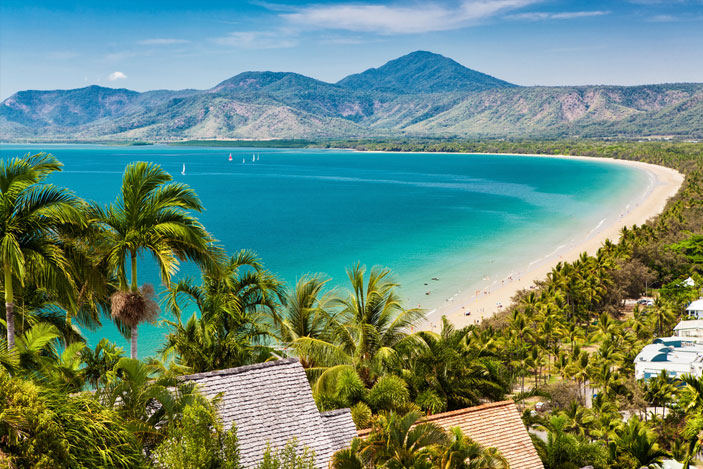 RESTAURANTS
Cairns 8/10
You will not be short on choices when looking for dining options in Cairns. As an international city you have just about every cuisine available, catering for both the budget conscious backpacker to those wanting a more fine dining experience. Cairns has many local pubs and backpacker bars situated mainly along Shields St and the Esplanade where you can always find something simple yet cheap and tasty to eat. For something a bit more fancy Grafton St and The Pier have an array of top restaurants to choose from. No matter what your budget or taste Cairns has you covered.
Port Douglas 7/10
Port Douglas is a lot smaller than Cairns so therefore doesn't have the variety of dining experiences that Cairns does. Macrossan St, the main street in Port Douglas is lined with restaurants and even though you will find a few pubs that offer simple pub meals a lot of what is on offer in Port Douglas is upper market and a more expensive than Cairns. However as Port Douglas has that small village atmosphere you will generally receive friendly, hands on, can do service.
NIGHTLIFE
Cairns 9/10
Cairns is a popular destination on the backpacker circuit and the city's nightlife is alive and pumping as a result. The local pubs and backpacker bars are busy most nights of the week with most venues offering special drink deals. Cairns also has a healthy live music scene, from  big pub gigs to small jazz bars and there are plenty of nightclubs for those who like to hit the dancefloor. If a buzzing nightlife is a high priority for you, Cairns will not disappoint.
Port Douglas 6/10
The nightlife in Port Douglas is a different experience altogether. There are a few great pubs in town where you can usually go and catch a band playing. As Port Douglas doesn't have a great nightclub scene, some of the bars and pubs convert into nightclubs on weekends later in the night which can be a great way to meet and party with the locals. Port Douglas has a lot more small, low key bars as opposed to pumping nightclubs.
SHOPPING
Cairns 9/10
Cairns has everything you could need in terms of shopping. It has two shopping centres close to town, that offer everything that you could expect from shopping centres in  bigger cities including major supermarkets and department stores. It has numerous markets in town and surrounding areas where you will find fresh tropical food and local handmade crafts. The Cairns Night Markets located on the esplanade is a must see and the place to get all your gifts and souvenirs.
Port Douglas 6/10
Port Douglas doesn't have any major shopping centres but it does have a Coles Supermarket in town along with other necessity stores such as a newsagency, chemist and medical centres. The main street is scattered with clothing stores and souvenir shops targeted mainly at tourists. One of the highlights when in Port Douglas are the sunday markets which have are always popular with both locals and tourists.
Overall, if it's adventure, a buzzing nightlife, great food and shopping that you're after then Cairns is the place for you. It offers more things to do even for those on a tighter budget. Port Douglas is more suited for those wanting a relaxed laid back holiday surrounded by nature in a small village atmosphere. If you're wanting the best of both worlds head over to Fitzroy Island. It's just a short boat trip from Cairns giving you a balance of big city life and Island escape.