When you're on a tropical island in the calm waters of the Coral Sea, what is the one thing you have an abundance of? Well, besides incredible vistas, endless adventures & unique landscapes?  Water. You're literally surrounded by it. And when you're on Fitzroy Island, luckily for you, there are so many ways that you – and the whole family – can take advantage of this.
But before we tell you about some of our favourite water-based activities, let us first tell you about this tropical island that is like no other.
What you need to know about Fitzroy Island
Located only a 45-minute ferry ride from Cairns, Fitzroy Island feels like a secluded paradise, and one that makes the perfect holiday destination, for any holiday maker. Diverse landscapes of woodlands, granite boulders, and tropical rainforest cover the island, offering you endless exploration opportunities. 97% of the island is a National Park that is home to a unique range of plants and animals that you won't find anywhere else.
At all turns you will enjoy incredible views – with the crystal blue waters that surround the island visible from many areas of the island. Though if you delve deep enough into that lush rainforest, you might feel like you're in a pre-historic paradise that is not too different to Jurassic Park.
Besides the obvious attractions of a paradisiac tropical island, what makes Fitzroy Island a great holiday destination is that it really caters to any budget, with activities and accommodation options aplenty. From camping to penthouse suites, you can find something to suit your holiday style and budget. And the best part is, when you're on Fitzroy Island, you're worlds away from the real world.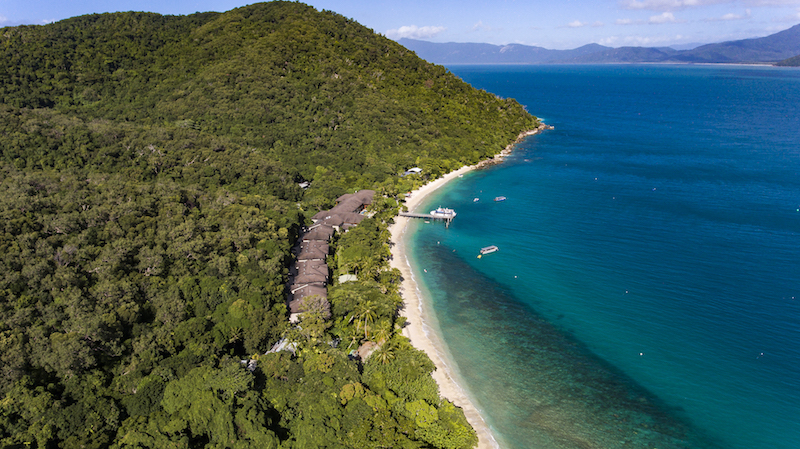 Water, Water, Everywhere
While there is a wide range of fun things you can do on the island, the water-based activities are hard to pass up given the water world that surrounds you.
You see, the waters that surround Fitzroy Island are none other than the same ones that house part of the coral reef system of the Great Barrier Reef. In fact, you can find coral gardens that make up parts of the Reef literally only metres from the shore.
So, if you're up for some water-based fun, keep reading because we're going to tell you about some of our favourite activities you can do here on Fitzroy Island. And to make it even better, these activities are perfect for all age groups – so, here we go!
1. Snorkelling
We're just going to say it – did you even go to Fitzroy Island if you didn't go snorkelling? This is most certainly a must do when you're on the island, after all, how often are you this close to the unique attraction that is the GBR?
Suitable for anyone who enjoys swimming, snorkelling gives you the freedom to explore and get up close and personal with the marine wildlife and coral gardens that are at home in the GBR. Take in the incredible underwater world at your own pace, before you know it, hours will have passed you by.
If you're new to snorkelling and want to get the lowdown on how to make the most of your snorkelling time, you can take part in a snorkelling for beginner's tour. Your tour guide will get you comfortable and familiar with the equipment you're using, and they will show you some of the underwater inhabitants, like coral and fish. You might even be lucky enough to spot a sea turtle while you're out there.
Whether you snorkel regularly or not, don't worry, you can hire all the snorkelling gear you need from the Fitzroy Island Sports Hub. The friendly team will be able to help you find the right gear and you can book your snorkelling tour with the team as well.
2. Stand Up Paddle Boarding
Now this is an activity that's going to make you feel like you're walking on water – stand up paddle boarding. Even if you're never heard of it before, chances are you might have seen someone given this a go somewhere, that's because it Stand Up Paddle Boarding has been gaining in popularity in recent years.
Able to be done in almost any body of water, SUP boarding is where you stand atop a board that is essentially the middleman between a surfboard and boogie board. You then use a paddle to make your above the water world below. The calm waters of the Coral Sea around Fitzroy Island are truly ideal for this activity. Not only are they gentle enough to allow you to find your balance, they house that incredible marine world below.
You can explore far and wide when stand up paddle boarding, reaching places you can't get to by foot or by boat. Reach those hidden nooks and crannies and discover the world below.
Now, we can't guarantee that you won't get wet when you're stand-up paddle boarding – you've got to find your balance first – but given you're reading about water activities, we suspect you don't mind a bit of water. What we can guarantee is a lot of laughs and an unforgettable experience.
You can go it alone by hiring the SUP boarding gear you need at the FISH, or you can take part in an intimate small group guided tour that you can find more about here.
3. Sea Kayaking
Now if you are looking for a water-based activity where your chances of staying dry are higher, than sea kayaking may be for you. You can set out on an adventure with your own sea kayak, and paddle wherever you wish.
Take in the water world that surrounds you truly at your own pace, but be warned, sea kayaking is not for the faint of heart – it is quite the workout, and if you haven't done it before, you might be sore the next day. But don't let that put you off because the exploration opportunities are endless, and so incredible, you won't even notice the hard work you're putting in.
You can discover the marine life below from your sea kayak and given the crystal blue waters you will be kayaking in, your view is pretty great. You can even opt for a glass bottomed kayak where you can watch the world you're sitting on top of pass by.  But it's not only the mysterious world below that you're going to be able to see, because you can get a little further a little easier on a sea kayak, the view you will gain of Fitzroy Island itself will leave you super impressed – you get to see exactly where the rainforest meets the reef.
Like most of the water activities on our list, you can organise the gear you need from the FISH, you can hire a single sea kayak to set out on your own, or you can choose a double sea kayak and half the work by partnering up with someone!
4. Glass Bottomed Boat Tour
Discover the magic that is below the surface with a glass bottomed boat tour that will take your out onto the waters that surround the island. This tour is perfect for those who want to stay dry but still see the incredible coral gardens and marine life that inhabits the water.
A great family activity, it is truly suitable for any age, even the really little ones. The tour is an hour long, so the kids won't get restless, in fact, the views they have of the fish, coral and other inhabitants below will keep them busy the entire time.
You can organise this tour by booking online here, or you can visit the team at the FISH, and they can help you organise your glass bottomed tour.
5. Turtle Rehabilitation Centre
Now this last activity we're going to talk about is not strictly a water-based activity, rather it's an activity to do with one of the inhabitants of the marine world, and in our opinion, it cannot be a missed – a visit to the Fitzroy Island Turtle Rehabilitation Centre.
A volunteer run, not for profit organisation, the Turtle Rehab Centre gives a home to injured and unwell sea turtles. When you visit the centre you can learn about what they do at the centre, and more about sea turtles.
The waters of the GBR are actually home to 6 of the world's 7 species of marine turtles, and you will be able to see some of these species that are residents in the rehabilitation centre.  The safety of sea turtles in the wild is sadly threatened by both natural and human elements, so the centre has been set up to give a home to these sick and injured turtles until they are ready to go back out to the wild.
Some of the turtles call the centre home for only a short time, while others may stay for years at a time – where possible though, the centre aims to release the sea turtles back to their natural environment if it is safe for them to do so.
Not only is the likelihood of you being able to see a sea turtle up this close very slim in the real world, what makes this place a must visit is that the work and passion the team who runs the centre and looks after the turtles is very impressive and well worth supporting. Find out more about the centre and some of the turtle residents right here.
Let's wrap it up
Fitzroy Island really is the ideal holiday destination, especially if you are a lover of water-based fun! Now, if we had to choose only one of the activities we've mentioned today, we couldn't possibly – you've got to try them all for yourself!  Learn more about some of the activities and tours you can do when you're on the island!