Over two million people from all around Australia and the globe venture to the Great Barrier Reef in sunny Queensland, Australia each and every year, and once you've seen this incredible sight with your own eyes, you will understand why!
Not only is the Great Barrier Reef home to some of the most spectacular marine life in the world, including stunning hard and soft corals, striking tropical fish, majestic marine turtles and a wide array of molluscs (e.g. giant clams), crustaceans (such as crabs), rays, dolphins and whales, it is also home to some of the most magnificent locations in Queensland.
Let's take a look now at why you absolutely must visit the Great Barrier Reef at least once in your lifetime!
Abundance of Breathtaking Marine Life
Many visitors to the Great Barrier Reef are amazed when they learn that it is not one long, continuous structure, but in fact is made up of a gigantic 2,900 individual coral reefs (comprised of a mix of 600 different species of hard and soft corals).
An astonishing 1,625 different species of tropical fish (a whopping 10% of the world's total fish population!) live amongst these coral structures, in addition to thousands of other marine animal species, including sea turtles, rays, jellyfish and giant clams.
Outstanding Snorkelling and Diving
With such an abundance and diversity of marine life that call the Great Barrier Reef home, it's no wonder thousands of ocean lovers flock to this incredible region every year. Whether you choose to snorkel or dive (or both), there is bound to be a local tour operator that suits your preferences when it comes to exploring the Great Barrier Reef. Depending on how much time you have up your sleeve, you may choose a half-day, full-day, overnight or even a multiple-day experience.
One of Seven Natural Wonders of The World
Did you know that the Great Barrier Reef is the largest living structure found anywhere on the planet? In fact, it is so mammoth, it can be seen from outer space! The Great Barrier Reef begins off the coast of a southern Queensland city called Bundaberg and works its way north right up to the very top of Australia, the Cape York Peninsula.
Bursting with an array of awe-inspiring marine life and stunning natural beauty, it is no wonder the Great Barrier Reef is included as one of the seven natural wonders of the world (alongside Mount Everest, Victoria Falls, Aurora Borealis (Northern Lights), the Harbour of Rio de Janeiro, Paricutin Volcano and the Grand Canyon).
Exquisite Tropical Islands
Several hundred unique tropical islands are located amongst the beauty of the Great Barrier Reef. Numerous islands welcome visitors, such as Hamilton Island in the Whitsundays (the southern Great Barrier Reef) and Fitzroy Island in Tropical Far North Queensland (the northern Great Barrier Reef).
In fact, Nudey Beach on Fitzroy Island was awarded the number one spot in Australia's Top 101 Beaches Awards for 2018 and has to be seen to be believed! Access to Fitzroy Island is made easy, via riding the island's Fast Cat from the Cairns Marina (a 45-minute trip). Choose to visit for just the day or stay a little longer at Fitzroy Island Resort, with accommodation types to suit all tastes and budgets.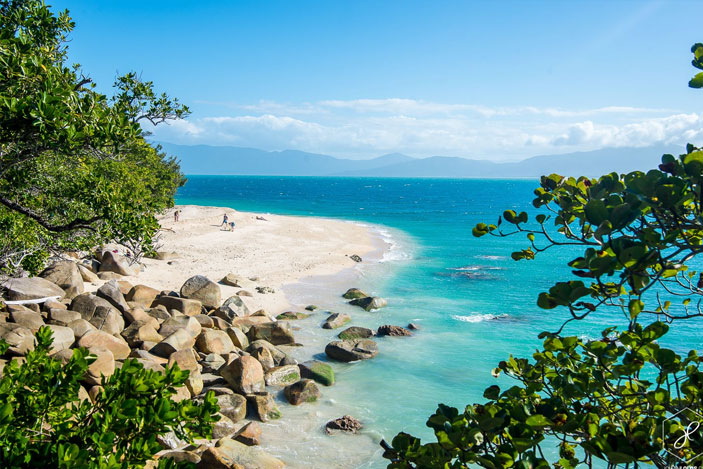 Proximity to the Daintree Rainforest
Tropical Far North Queensland is one of Australia's and the world's most spectacular travel destinations, thanks to being home to not only the Great Barrier Reef, but also the world's oldest and truly awe-inspiring tropical Daintree Rainforest. The Daintree Rainforest is teeming with an incredible array of plant and animal life and is an absolute must-see destination on your visit to Queensland.
Majestic Marine Turtles
Six of the world's total number of seven different species of marine turtles live amongst Australia's Great Barrier Reef, making it one of the best locations on the planet for seeing these magnificent creatures up close in their natural habitat. These magical creatures are far and above the most desired animal to observe when exploring the Great Barrier Reef.
If you are madly in love with marine turtles, then be sure to pay a visit to the Cairns Turtle Rehabilitation Centre, located on stunning tropical Fitzroy Island (in Tropical Far North Queensland, off the coast of Cairns). The Centre runs daily tours (please note bookings can only be made once you are physically on the island), where you can see up close the incredible work the dedicated team of volunteers carries out in order to rehabilitate sick and injured turtles for release back into the waters of the Great Barrier Reef.
Wondrous Manta Rays
In addition to beautiful sea turtles, manta rays are one of the most majestic and jaw-droppingly beautiful sea animals on the planet. Did you know that the largest of manta rays reach a wingspan of up to seven metres? Amazing, huh! One of the best destinations for admiring manta rays in their natural habitat is the waters that surround one of the Great Barrier Reef's most southern islands, Lady Elliot Island.
Whale Watching
Whale watching is made easy on the Great Barrier Reef, whereby approximately 30 different species of whales (as well as dolphins) migrate north for the annual breeding season. Whale watching tours operate at certain times of year at multiple locations on the Great Barrier Reef and Queensland coastline. If luck is on your side, you may have the chance to spot Humpback Whales, Dwarf Minke Whales (swimming by these animals is unique to the Great Barrier Reef) and/or Bottlenose Dolphins.
Whitehaven Beach
Whitehaven Beach found on Whitehaven Island in the Whitsundays region of the Great Barrier Reef is one of the most beautiful and most photographed beaches in not only Queensland nor Australia, but all of the world.
Pure white silica sand meets the warm and inviting crystal-clear turquoise ocean at Whitehaven Beach and for some of the finest views of this beach and its surrounds (including infamous Hill Inlet), join a tour group which includes a hike up to the Tongue Point lookout.
See Famous Heart Reef
Heart Reef is in fact an entirely natural coral structure shaped like a heart (as the name suggests) situated on Hardy Reef in the Whitsundays area. An aerial view of Heart Reef and the wider Great Barrier Reef is a truly remarkable experience, one you shall remember for the rest of your life!