Sea turtles have existed in the world's oceans for more than 150 million years, first appearing during the age of the dinosaurs. These majestic and awe-inspiring animals are often referred to as "the ancient mariners of the sea" and having the opportunity to get up close and personal with a turtle is a breathtaking experience and one you will never forget.
Australia is lucky enough to be home to six out of the seven species of sea turtles in the world:
Green Turtle
Loggerhead Turtle
Hawksbill Turtle
Flatback Turtle
Olive Ridley Turtle
Leatherback Turtle
They can be found in the warm waters off the Australian coast all year round, so, if you've ever dreamed of having a real life encounter with a sea turtle, below is a list of places where you can see these amazing animals:
Fitzroy Island, Queensland
With warm, calm, crystal clear waters all year round the Great Barrier Reef is home to all six species of sea turtles and one of the best places in Australia to have an encounter with turtles. Cairns, in Tropical North Queensland has endless snorkeling opportunities to spot turtles in their natural environment, however, Fitzroy Island also caters to those people who would rather stay dry and still come face to face with these grand animals.
Fitzroy Island is a short 45 minute boat ride from Cairns, and the beautiful, tropical waters surrounding the Island provides the perfect opportunity to swim with turtles in the wild. For people who aren't too keen on getting wet or families with younger children, Glass Bottom Boat Tours depart from Fitzroy Island twice a day.
This allows you to still have the experience of seeing a turtle in it's natural environment. One of the highlights of a turtle adventure on Fitzroy Island is the Turtle Rehabilitation Centre. The Turtle Rehabilitation Centre is a volunteer operated, non profit organisation dedicated to the rescue, care and recovery of sick and injured turtles.
The centre offers daily tours where you can see the turtles and learn more about them and the dedicated carers who are committed to bringing the turtles back to full health.
Ningaloo Reef, Western Australia
Encounters with sea turtles can be experienced all year round on Western Australia's Coral Coast. Ningaloo reef is just a stone's throw from Exmouth, which is located on the eastern side of WA's North West Cape and is Australia's largest fringing reef. You can snorkel straight off the beach in many places and these waters are populated with loggerhead, green, hawksbill and flatback turtles all year round.
The turtles nest on the mainland beaches adjacent to Ningaloo Reef between November and March and hatchling season starts six weeks later from December through to March. It's a beautiful sight to watch these little hatchlings as they make their way across the sandy beaches into the warm water, however a strict code of conduct is in place for self guided turtle viewing or alternatively you can join a guided turtle viewing tour.
Mon Repos, Queensland
Mon Repos is a beautiful beach just a 15 minute drive from the city of Bundaberg in Queensland. Mon Repos means "my rest" which is very fitting as it supports the highest concentration of nesting marine turtles on the eastern Australian mainland and has the biggest loggerhead turtle nesting population in the south pacific region. From November to January these beautiful, huge mamma turtles heave their way up the beach to find a safe spot to dig a nest and lay their eggs.
Six to eight weeks later, between January and March you can witness the new hatchlings emerge from their nests and make their way across the beach towards the sea. If correct turtle watching guidelines are not followed the turtles can be easily disturbed, so if you wish to experience this ancient ritual, guided turtle encounters are run by the Queensland Parks and Wildlife Service during turtle season from November to March.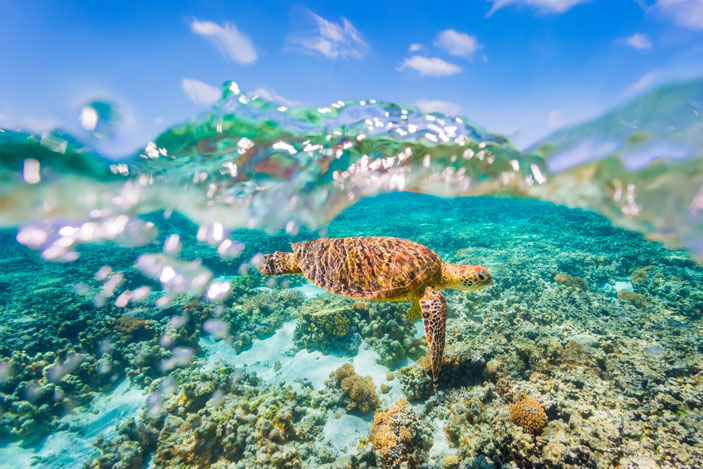 Bare Sand Island, Northern Territory
Bare Sand Island is situated about 50km west of Darwin and the Island is approximately 1.8km in circumference. Bare sand Island consists mostly of sand with sparsely vegetated low sand dunes and has one tree that is considered sacred to the local indigenous people. During the winter months between May and October hundreds of flatback turtles come to the island to nest.
Bare Sand Island gives you the opportunity to experience turtles in the wild with guided tours operating out of Darwin. The waters surrounding Bare Sand Island are home to saltwater crocodiles and box jellyfish so if you choose to visit the Island be sure to stay away from the water's edge and follow the rules of the Island.
Broome
The beaches of broome are all nesting hotspots for sea turtles between October and February. Local conservation groups have been established to limit the effect tourism is having on the turtle population.
One and half hours south of Broome is Eco Beach, another popular destination for those wishing to have an encounter with turtles. You can join a small group on an EcoTour to get up close with the flatback turtles and participate in monitoring and recording data on these amazing creatures.
Australia is privileged to be home to to such a vast array of turtles and having an encounter with these graceful, majestic sea animals is a magical experience and a must do for everyone at least once in their lifetime.