Are you planning a trip to the magnificent Great Barrier Reef (GBR), along the beautiful, sunny coast of Queensland, Australia? Then this article is for you! Whether you are a Queensland local, an Aussie from interstate or travelling internationally to this spectacular location, in this article we shall cover some of the most frequently asked questions by travellers venturing to the Great Barrier Reef. Let's get started!
Where is the Great Barrier Reef located?
The Great Barrier Reef runs vertically along the coastline of Queensland, Australia's "sunshine state", located at the northern end of the east coast of Australia. The Great Barrier Reef runs off the coast of Bundaberg in the south of Queensland, and stretches north for an enormous 2600+ kilometres (1600+ miles), all the way up to the most northern point of Australia, the Cape York Peninsula.
How big is the Great Barrier Reef?
The Great Barrier Reef is the biggest reef system on the planet and is spread over 300,000 square kilometres (186,000 square miles). The GBR is comprised of a number of individual reefs (2,900+) and beautiful islands (900+). In fact, the Great Barrier Reef is so enormous, it is visible from outer space! Not only is the Great Barrier Reef World Heritage-listed (as of 1981), it is also one of the seven natural wonders of the world.
How many people visit the Great Barrier Reef each year?
The Great Barrier Reef welcomes a whopping two million visitors each year! People visit the Great Barrier Reef from every corner of the globe, and many Australians from all over the country visit Queensland to witness the exquisite beauty of this astounding natural structure. Tourism generated by visits to the Great Barrier Reef accounts for approximately $6 billion revenue for the Australian economy each year.
What types of animals call the Great Barrier Reef home?
The Great Barrier Reef is absolutely teeming with marine life, and home to some of the world's most breathtakingly beautiful animals. Over 1600 species of fish live amongst the reef systems of the GBR (the large proportion of which are coral reef species) and the Great Barrier Reef is one of the most famous locations in the world for spotting turtles, thanks to six turtle marine species calling this area home (only seven species of marine turtles exist in the world).
Thirty different species of dolphins and whales live on the Great Barrier Reef, and interestingly, also ~200 different species of birds. Amongst the coral reefs of the GBR you can also find an enormous variety of molluscs (such as clams), as well as many different species of crustaceans (such as crabs), rays and jellyfish. Approximately 400 types of hard and soft coral species themselves (which are in fact animals, not plants) make up the individual coral reefs, that when combined form the Great Barrier Reef.
Where are the best places to visit the Great Barrier Reef?
Two of the best locations to visit in terms of seeing the Great Barrier Reef are Cairns and Port Douglas.
Cairns
Cairns is often referred to as the gateway to the Great Barrier Reef, and is home to the region's international and domestic airports. It is important to keep in mind that most day trips out to the reef depart from Port Douglas, a coastal seaside town located approximately one hour north by road (along the magnificent and picturesque Captain Cook Highway).
If you are planning to visit Cairns and do not wish to make the trip north to Port Douglas or are keen to explore the beauty of the Great Barrier Reef straight from the shore of a nearby tropical island, you can't beat a visit (whether a day trip or longer stay at the island's exclusive resort) to Fitzroy Island. Fitzroy Island is an idyllic tropical island paradise, located right in the heart of the Great Barrier Reef, and just 30km away from the Cairns marina via Fast Cat.
Fitzroy Island is home to Australia's number one beach, Nudey Beach, as voted in Australia's Top 101 Beaches Awards for 2018. Nudey Beach with its exquisite white sand, backdrop of lush rainforest vegetation and granite boulders, and gentle entry to its warm, turquoise waters, is one of the most spectacular locations in Queensland from which to explore the Great Barrier Reef. You can snorkel straight off the shore of the island onto the reef, whether you choose to bring your own snorkelling gear along or hire it from the island's Dive and Adventure Centre.
Beyond beautiful snorkelling, where you will have the chance to see the island's famous turtles, beautiful tropical fish (including clown fish and giant gropers) and an array of coral, you can also explore Fitzroy Island's stunning rainforest vegetation via its many walking tracks, play on the Giant Ocean Trampoline, try your hand at sea kayaking, take a glass bottom boat tour and visit the island's Turtle Rehabilitation Centre. Accommodation to suit all budgets is available on Fitzroy Island. For more information, please click here.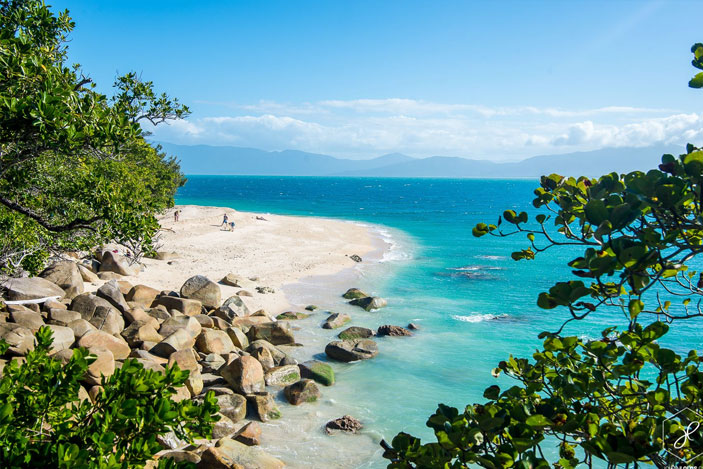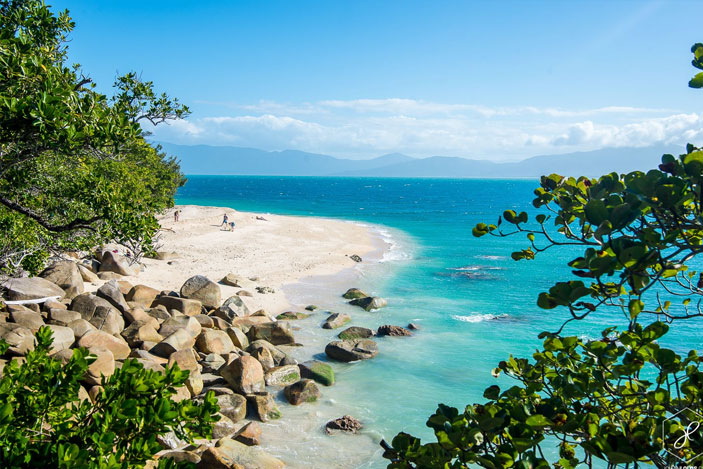 Port Douglas
The beautiful seaside town of Port Douglas is home to the majority of tours departing for the Great Barrier Reef each day (whether to the outer reef or the nearby Low Isles, two islands connected by a coral cay). Whether you wish to explore the reef for a full day, half day or just a few hours, whether via a large vessel such as Quicksilver, or a catamaran such as Sailaway, there are tours to suit everyone. Snorkelling is included in the price of your ticket in most cases (always check with your chosen tour operator, to be certain), and diving is offered as an optional extra on some vessels (where even absolute beginners can give it a shot).
Port Douglas itself is a friendly, laidback town, home to its famous Four Mile Beach, lined with large coconut palms, dense tropical vegetation and warm tropical water, and is patrolled daily by professional lifesavers. Port Douglas is famous not only for its natural beauty, but also its many incredible dining options, from casual eateries such as cafes and pubs, to award-winning fine dining options.
What time of year is best to visit the Great Barrier Reef?
The Great Barrier Reef is stunning no matter what time of year you visit. More specifically, peak season for exploring the Great Barrier Reef is between approximately June (the beginning of Australia's winter) to September. Weather conditions during these months are ideal for visiting the Great Barrier Reef, particularly Tropical Far North Queensland (where Cairns and Port Douglas are located), thanks to its balmy, tropical temperatures all year round. It is a good idea to keep in mind that these four months of the year feature numerous Australian school holiday periods. It can help to travel outside these periods in terms of crowds and cost. Regardless, this time of year the weather is often warm (between 20 and 30 degrees Celsius), it does not rain very often and the weather is much less humid than in low season.
The low season, which is otherwise referred to as 'wet season' or 'stinger season' occurs from November to May. Rainfall is much more common during this period than peak season (the winter months). From November through May, you should swim in the dedicated marine stinger enclosures when visiting the beach in Tropical Far North Queensland. When visiting the reef with a tour operator, you may be required to wear a stinger suit, to protect you in the water.
What are the best ways to see and experience the Great Barrier Reef?
There are a variety of ways in which you can explore the magic of the Great Barrier Reef. The most popular of which is snorkelling, whether you choose to visit an outer reef location or snorkel straight off the shore of a tropical island (such as Fitzroy Island or the Low Isles, off the coast of Port Douglas). Regardless of where you choose to snorkel on the Great Barrier Reef, it is an easy, laidback and breathtaking way to get up close and personal amongst the sea life that call the region home. Most tours include snorkelling gear hire – think snorkel, mask and fins (it is best to check upon booking, so as to avoid any disappointment).
Scuba diving is another popular option for exploring the reef, whether you have lots of experience under your belt, or none at all. Some tour operators offer both snorkelling and diving on board (and will require you to book your scuba diving experience when you sign up to the tour, unlike snorkelling).
Three other fabulous ways for exploring the Great Barrier Reef are from the air (via helicopter), or from the comfort of a glass bottom boat or sea kayak (especially one with a glass viewing panel!). If you are not a comfortable or confident swimmer, seeing the reef from the air or via glass bottom boat are both great options. Viewing the Great Barrier Reef from the air is a truly unique and awe-inspiring experience, and gives you an entirely different view of this miraculous natural phenomenon. Think incredible colours, textures and patterns like nothing you've ever seen before!
Where are the best places to see turtles near Cairns on the Great Barrier Reef?
One of the most sought-after marine animals to spot when visiting the Great Barrier Reef is the infamous sea turtle. The Great Barrier Reef is home to six different species of marine turtles: the Green Turtle, Hawksbill Turtle, Leatherback Turtle, Flatback Turtle, Loggerhead Turtle and Olive Ridley Turtle.
Turtle Bay (Agincourt Reef) and Opal Reef are home to four of these six species and the best time of year to see turtles in this region is between late October and early December (i.e. late Spring and early summer). Turtles often frequent the warm waters surrounding both Fitzroy Island and Green Island, both located off the coast of Cairns, and Fitzroy Island is also home to the Cairns Turtle Rehabilitation Centre, where you can participate in a tour of the facility and see firsthand the incredible work the fully volunteer-run centre completes in order to save, nurture and rehabilitate sick or injured sea turtles, for their release back into their home – the ocean. If you are a turtle lover, this is a truly memorable experience not to be missed.