Fitzroy Island is a tropical paradise located just off the coast of Queensland, Australia.
With its stunning beaches, crystal-clear waters, and lush rainforest, it's no wonder why so many visitors flock to this island each year.
But with so much to see and do, it can be overwhelming to plan a trip. That's why we've put together this ultimate guide to Fitzroy Island, covering everything from transportation and accommodations to activities and conservation efforts.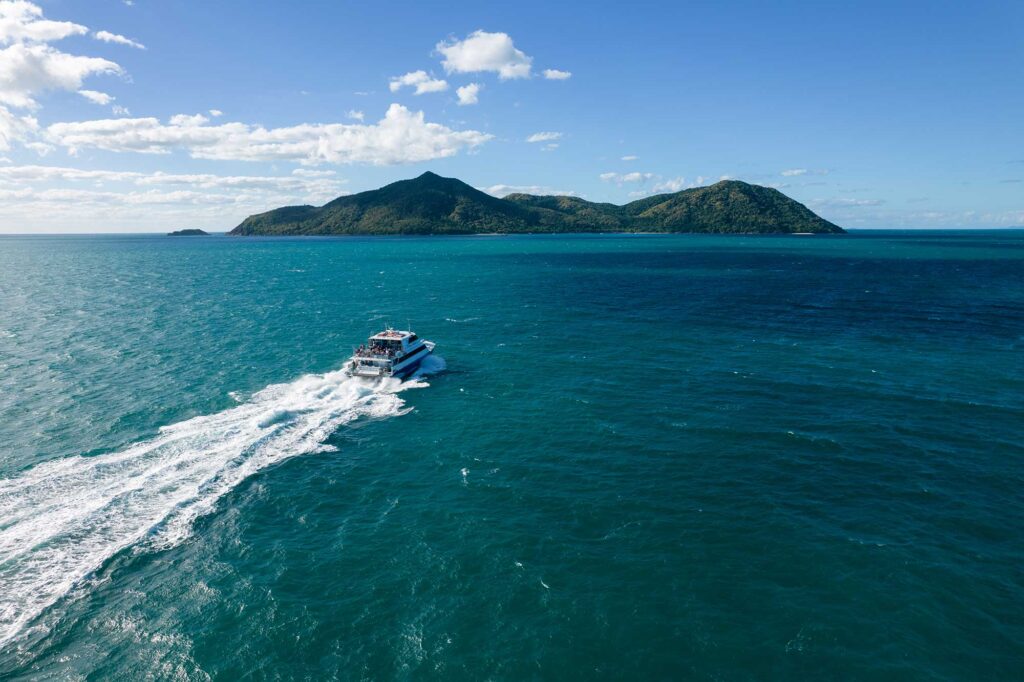 Getting to Fitzroy Island
There are several options for getting to Fitzroy Island, depending on your preferences and budget.
The most common way is by ferry, which departs regularly from Cairns. The journey takes about 45 minutes each way, and the ferry is equipped with air conditioning and bathrooms.
You can also take your own boat to the island, with mooring options available at Fitzroy Island. Or there are numerous private boat charters if you're looking for a customised experience where you don't have to do the work!
Accommodation Options
Fitzroy Island offers a range of accommodations to suit every traveller's needs.
The Fitzroy Island Resort is the island's main accommodation option, offering a variety of room types from standard hotel rooms to luxurious suites.
There is also a campground available for those who prefer to sleep under the stars. You don't even need to bring your own camping gear with camping bundle options available so all you need is your clothes.
Each option has its own pros and cons, so be sure to choose one that suits your preferences and budget.
Food and Drink
When it comes to dining on Fitzroy Island, there are several options to choose from.
Zephyr Restaurant offers a fine dining experience, with a focus on fresh seafood and local produce.
Foxy's Bar is a more casual option, with a selection of burgers, pizzas, and snacks, as well as a range of cocktails and beers. For those who prefer to cook their own meals, there is a general store on the island that sells groceries and other essentials.
Make sure you grab some snacks so that you can enjoy an afternoon picnic at Nudey Beach – Australia's most beautiful beach in 2018.
Activities and Attractions
Fitzroy Island is a paradise for outdoor enthusiasts, with a wide range of activities and attractions to keep you entertained. Some of the island's most popular spots include:
Fitzroy Island is also a great destination for families with children, as there are several kid-friendly activities available, such as daily fish feeding and wildlife presentations at the island's Welcome Bay, which provides a great opportunity for kids to learn about the marine life of the Great Barrier Reef. There are also a number of kid's activities that the resort puts on, including arts and crafts.
Conservation Efforts
Fitzroy Island is a protected national park, and there are several conservation efforts in place to ensure that the island's unique ecosystem is preserved for future generations.
One of these efforts is the Reef Restoration project which involves growing new corals from offcuts of coral from the Great Barrier Reef in offshore coral nurseries. You can learn more about the amazing work of the Reef Restoration project here.
Visitors can learn more about these efforts by joining one of the guided walks or talks, which are offered regularly by the island's rangers. These programs provide insight into the island's ecology and conservation efforts, as well as tips on how visitors can help protect the environment during their stay.
Tips for Visiting Fitzroy Island
To make the most of your visit to Fitzroy Island, here are some additional tips to keep in mind:
Pack light and comfortable clothing, as well as sunscreen, hats, and sunglasses.
The best time to visit is during the dry season, from May to October, when temperatures are mild and rainfall is low.
Take care when swimming and snorkelling, and always follow the instructions of tour operators and lifeguards.
Respect the environment and wildlife by not littering, feeding the animals, or touching coral or other marine life.
Consider booking activities and accommodations in advance, especially during peak season, to ensure availability.
Visit Fitzroy Island Today
Fitzroy Island is a must-visit destination for anyone travelling to Queensland, Australia. With its stunning beaches, tropical rainforest, and diverse wildlife, it's a place that offers something for everyone. By following the tips and recommendations in this ultimate guide, you can make the most of your visit to this paradise island and create memories that will last a lifetime. Whether you're looking for adventure, relaxation, or a combination of both, Fitzroy Island is sure to exceed your expectations.