Queensland is blessed with some of the most pristine, rich and diverse islands in the world. With many of the islands nestled amongst the Great Barrier Reef, which is one of the Seven Wonders of The Natural World and is also the world's largest coral reef, there are hundreds of picturesque, sun-soaked island destinations for you to choose from.
So with so many amazing islands to explore how do you decide which one is the ideal setting for you to live out your island paradise fantasies?
In this this article we'll look at some of the best islands off Queensland.
We have listed a number of islands and accommodation options according to which part of Queensland you will be launching from.
Islands Off Cairns
Cairns is one of the most popular launching pads for Great Barrier Reef adventures. This Far North Queensland city has a number of great islands to explore.
Fitzroy Island
Located just a short 45 minute ferry ride from Cairns, Fitzroy Island offers everything you could ever want in a tropical island getaway. Fitzroy Island has the perfect combining secluded white sandy beaches, vibrant coral reefs and vast native bushland with quality accommodation,  bars, restaurants, swimming pools and activity hire.
Because of it's size and proximity to Cairns Fitzroy Island has something for all types of travellers including:
Budget accommodation and camping options
Bushwalking
Hidden beaches
Coral reefs
Rich marine life
Luxury resort
Bars
Cafes
Mini Supermarket
Resort
Activity Hire
Outer Barrier Reef Day Trips
So whether you want to escape the crowds and find your own piece of paradise, or are looking for a luxury island resort retreat, Fitzroy Island has you covered.
Green Island
Green Island is another great island destination located 45 minutes by boat from Cairns. Although much smaller Green Island still offers many great activities and accommodation options for a tropical island experience. The coral reefs surrounding Green Island are abundant with marine life and the island resort has been very committed to finding the right balance between tourism and preserving the natural habitat.
Although it can get much busier than Fitzroy Island with many day tripping tourist you can usually find a nice quiet place to relax and take in the warm, clear tropical waters as you bath in the sun.
Not sure whether to visit Fitzroy Island vs Green Island? Find out more here about the benefits of each island here.
Islands in the Whitsundays
The Whitsunday Islands are a collection of 74 pristine tropical islands located between Townsville and Mackay. The Island chain offers everything from Luxury Resorts to budget backpacking options.
Hamilton Island
Located in the heart of the Whitsundays, Hamilton Island offers the largest range of accommodation options of all the Whitsundays Islands. Set amongst the slowly swaying tropical palms you can spend your days relaxing on the beach or by the pool, or get a little more active with many snorkelling and scuba diving destination just off the beach.
When looking for somewhere to stay Hamilton Island has everything from luxury hotel rooms, self contained apartments and villas or quaint palm bungalows.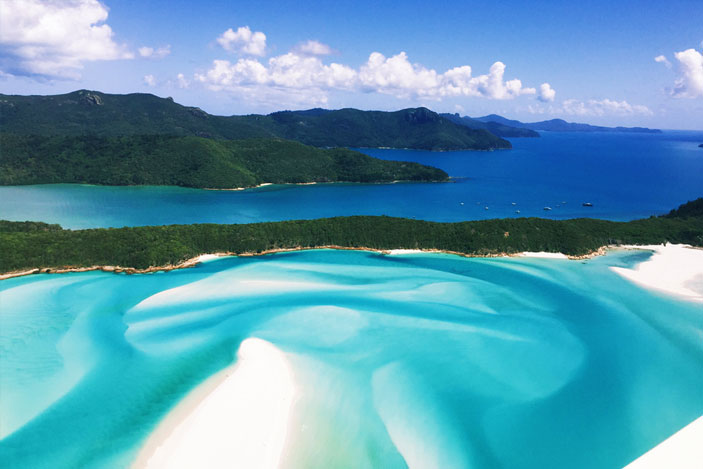 Hayman Island
Hayman Island is the most northern of all the Whitsundays Islands. The natural surrounds are a feast for the senses. When the sun is shining the colours you will witness on the waters of Hayman's lagoon and Whitsunday Passage with leave you breathless and are a once in a lifetime experience, with hues ranging from gold to turquoise, emerald and sapphire.
There are also a number of amazing bushwalks that wind through the eucalypt and hoop pine forests.
Hayman Island is also home to one Australia's most luxurious the resorts, the "One&Only Hayman Island" a stunning 5-star resort, which has been built to blend into the natural surroundings of the south west side of the island, set on a golden sandy bay.
It is also the only Australian island resort to be accepted as a member of the prestigious organisation "The Leading Hotels of the World". So for those of you with a little more budget and a taste for the finer things this could be the island for you.
Islands in the Southern Great Barrier Reef
Heron Island
Heron island is located just 72 km northeast of Gladstone and is on the southern tip of the Great Barrier Reef. Yet it still enjoy some amazing coral reefs just metres from the edge of the white sandy beaches that surround this stunning island landscape.
The waters and skies around Heron Island are teeming with wildlife. This is due to the fact that Heron Island is a World Heritage-Listed Marine National Park, meaning all flora and fauna is protected. It is one of the last islands where you can experience the beauty of the Great Barrier Reef with very minimal human impact.
There are also great diving and snorkelling opportunities.
One thing to note is that Heron Island does not offer day trips and the island is reserved for hotel guests only. So if you want private island holiday experience and have the budget to match Heron Island is a great option.
Islands off South Queensland
Fraser Island
Although Fraser Island is not situated on the great Barrier Reef it is still one of the most beautiful places you will ever visit. Located 3.5 hours north of Brisbane and just a short ferry ride from the mainland, Fraser Island is World Heritage Listed and is also the world's largest sand island.
You will need a 4wd to get onto Fraser Island and once you are there you can explore to your heart's content. There are dozens of secluded camping areas, amazing beaches, great fishing and surfing and also the beautiful Kingfisher Bay Resort which has been built to strict environmental standards, preserving the surrounding natural habitat.
This is just a short list of the hundreds of islands that track the Queensland coast but they are some of the best and most accessible for travellers. So take the plunge, pick your destination and set you clock to island time for one of the most unique and relaxing holidays you will ever have.
If you're visiting Cairns then Fitzroy Island is a great day trip or place to stay during your time in Far North Queensland.
For best available rates book direct with Fitzroy Island Resort today.