Hero Image: Nudey Beach, Fitzroy Island, Australia
Tropical Far North Queensland (TFNQ), Australia draws millions of tourists to the area each and every year, including Aussies travelling from interstate, Queensland locals, and of course, international visitors from every corner of the globe. It is not difficult to understand why, given the region is home to some of the most spectacular and easily accessible parts of the Great Barrier Reef, in addition to the awe-inspiring Daintree Rainforest. On top of that, you have outstanding tropical weather, friendly and welcoming people, delicious and unique dining options, awesome shopping, and who can forget – some of the most beautiful beaches in all of Australia, and in fact the world.
The tropical city of Cairns is considered the gateway to the region (in particular, the Great Barrier Reef), and boasts the area's major domestic and international airport. Cairns itself as well as a multitude of beautiful seaside and mountainous towns nearby are just begging to be explored and enjoyed by visitors to the region.
Let's take a look now at four key reasons why you simply must visit Tropical Far North Queensland!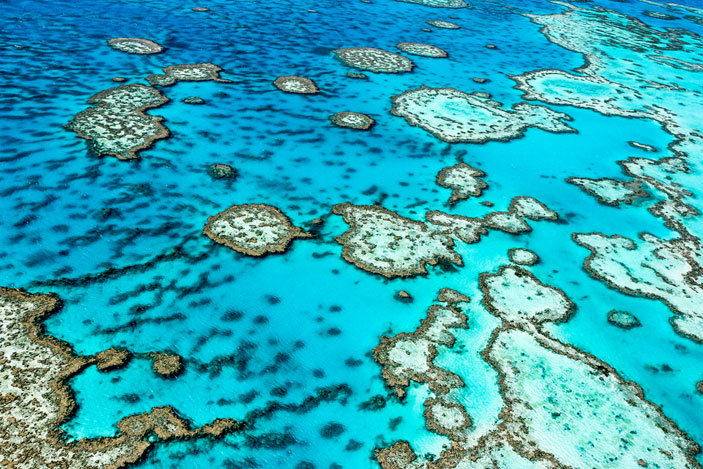 The Daintree Rainforest
The magical Daintree Rainforest, located just over an hour north of Cairns and 1,200 square kilometres in size, is the oldest and one of the most breathtakingly beautiful tropical rainforests on the plant. It is an astonishing 100+ million years old (even older than the Amazon Rainforest, found in South America). Not only is the Daintree Rainforest a feast for the eyes, it is also home to some of the most incredible and unique plant and animal species found anywhere on Earth, including a number of endangered animal species.
The Daintree Rainforest includes a variety of stunning landscapes, which can be explored via a number of different walking and hiking tracks. On your adventure to the Rainforest, you shall have the opportunity to spot lush green mountains, trickling streams as well as stunning waterfalls and gorges. Mossman Gorge is the most popular entry point for tourists wishing to explore the Daintree Rainforest and is located just 20 minutes north of Port Douglas, or over an hour north of Cairns. Mossman Gorge is also a safe freshwater swimming spot (subject to conditions), as it is free of crocodiles.
A visit to the Daintree Rainforest will have you enjoying a wide variety of lush trees, stunning ferns as well as different tropical flowers, many of which are completely unique to the region. In fact, more than 3,000 different species of plants form the magical Daintree Rainforest. Amongst these plants live numerous fascinating animal species, including stunning birdlife, frogs, reptiles and insects, in addition to the famous crocodile (present in some areas, speak with locals for more information).
Image Credit: lonelyplanet.com
Amazing Tropical Weather and Laidback Lifestyle
Not only is the TFNQ region spectacularly beautiful, it also boasts some of the most incredible, warm, tropical weather, no matter what the time of year (even in winter!). You shall find local people to be especially friendly, relaxed and welcoming, who are eager to make your stay the best it can be, whether you are looking to do not much at all, or are keen to get out on an adventure every day of your trip!
The Great Barrier Reef
The Great Barrier Reef is an incredible feast for the senses. A trip to Tropical Far North Queensland just isn't complete without experiencing this World Heritage Listed natural wonder of the world.
Did you know that the Great Barrier Reef is in fact over 2,300km long? The Reef begins off the coast of a Queensland town called Bundaberg and stretches all the way north to the more deserted Cape York Peninsula (the most northern point in Australia!). The Great Barrier Reef is in fact not one giant reef, but comprised of 2,900 individual coral reefs that together make up this magnificent natural structure (that can be spotted from outer space!).
An enormous array of beautiful sea animals calls the Great Barrier Reef home (including more than 600 types of hard and soft coral, which are in fact animals). Over 1,600 different species of stunning tropical fish live amongst the coral reefs, in addition to six of the world's seven species of beautiful marine turtles, as well as larger faunae including dolphins, majestic rays and even whales.
More than two million (!) people visit the Great Barrier Reef each year, to witness its magic for themselves. There are a variety of ways you can explore the Great Barrier Reef. Two of the most popular options are snorkelling and/or scuba diving and are offered by the majority of local tour operators that visit the Reef (be sure to check upon booking).
However, if you aren't particularly confident swimming in the ocean, you may prefer to take a glass bottom boat ride or perhaps even a seaplane or helicopter ride, and experience the Reef from a completely unique standpoint (prepare to be speechless – the views are out of this world!). No matter your choice, you are bound to be blown away by the truly incredible beauty of the Great Barrier Reef, with amazing memories to last forever.
Exquisite Palm-lined Beaches and Stunning Tropical Islands
Tropical Far North Queensland is teaming with exquisite palm-lined beaches everywhere you go, in addition to numerous stunning tropical islands. Some of the country's and in fact the world's most beautiful beaches are located in the TFNQ region. Some of the most famous beaches in TFNQ include Palm Cove (just north of Cairns), Four Mile Beach (Port Douglas), Mission Beach (two hours south of Cairns) and Nudey Beach on Fitzroy Island (awarded number one spot in Australia's Top 101 Beaches Awards for 2018).
Fitzroy Island is a fantastic option for visitors to the region wishing not only to witness the exquisite beauty of a tropical island, but also for those looking for a location whereby you can snorkel straight from the beach out onto the beautiful Great Barrier Reef. Fitzroy Island is located just 30km off the coast of Cairns and is easily reached by taking the Island's Fast Cat from the Cairns Marina. Elect to visit for just the day, or relax and stay a little longer at Fitzroy Island Resort.
Of course, a visit to Fitzroy Island just isn't complete without a wander through the rainforest from Welcome Bay to Nudey Beach – where you will be greeted by breathtaking white sand, turquoise water, stunning granite boulders and tropical rainforest vegetation. And to top it off, throw on your snorkelling gear, and just metres from the shore, you can immerse yourself in the island's warm, tropical waters and witness the beautiful Great Barrier Reef below.
We look forward to welcoming you to our amazing region soon!