Did you know that over two million visitors (from all over Australia and every corner of the globe!) visit the Great Barrier Reef each year? It is no wonder, really, when you consider its magnificent and unique sea life, stunning coral reefs (more than 2,000 individual coral reefs together make up the World Heritage-Listed Great Barrier Reef!) and inviting, warm, tropical waters.
Without a doubt, year after year, the sea turtle continues to be the most sought-after animal when it comes to witnessing the magical sea life that live among the Great Barrier Reef. Fascinatingly, six of the world's seven different species of marine turtles live amongst the Reef, making it one of the best locations in the world for spotting these majestic creatures.
The six marine turtle species that live amongst the beautiful Great Barrier Reef are: the Green Turtle, Leatherback Turtle, Hawksbill Turtle, Loggerhead Turtle, Olive Ridley Turtle and Flatback Turtle. Five of these species are in fact endangered, due to pollution and other detrimental causes. (Thankfully, lots of work is being done to conserve the Great Barrier Reef and the longevity of the species that call it home.)
Sea turtles are truly wonderful creatures – they are curious, harmless sea animals that on many occasions will happily cruise right past you while you are exploring the Reef below. Turtle sightings occur on a regular basis at a number of different locations on the Reef. In this article, we shall introduce to you five of these amazing locations.
Image Credit: aboutaustralia.com
Turtle Bay, Agincourt Reef
Agincourt Reef is one of the most widely visited locations on the Great Barrier Reef by local tour operators, and is one of the top contenders on our list, thanks to the opportunity to spot an amazing four different varieties of marine turtles that call this area home over late Spring and early Summer. During this time, you are likely to spot Green Turtles and Hawksbill Turtles, and if luck is on your side, perhaps even Olive Ridley and/or Loggerhead Turtles, too.
Agincourt Reef is a 90-minute boat ride away from Port Douglas (located an hour north of Cairns) and is best experienced by snorkelling or diving with one of the area's local tour operators.
Raine Island
If you are a turtle lover and an adventurous person, a visit to Raine Island is an experience like no other! Raine Island is one of the most spectacular places to visit for turtle fans, as more than 60,000 (!) marine turtles gather on the island when breeding season is at its peak. Female Green Turtles make their annual journey (thousands of kilometres) to Raine Island to lay their eggs in the sand. Though Raine Island is located 620km north west of the city of Cairns, the trip and investment is most definitely worthwhile for this once-in-a-lifetime experience.
Image Credit: parks.des.qld.gov.au
Fitzroy Island
Fitzroy Island is one of the very best places to see marine turtles up close, thanks not only to the many marine turtles that live in the warm waters surrounding this stunning tropical island, but also because Fitzroy Island is home to the fully volunteer-run Cairns Turtle Rehabilitation Centre (whereby sick and injured turtles are cared for with the goal of release back into their ocean home).
The beautiful tropical paradise that is Fitzroy Island sits just 30km off the coast of Cairns and can be easily reached by Fast Cat from the Cairns Marina (just a 45-minute ride). Day visits to the island are possible, in addition to staying overnight or longer thanks to the island's very own resort, Fitzroy Island Resort, with accommodation options to suite all tastes and budgets.
Fitzroy Island is not only a spectacular place for seeing sea turtles, but is also an adventure lover's playground, with activities galore! Think snorkelling, scuba diving, a giant ocean trampoline, kayaking, stand-up paddle boarding, glass bottom boat tours, walking and hiking trails.. The list goes on! Fitzroy Island is also home to Australia's number one beach, the breathtaking Nudey Beach, as voted in Australia's Top 101 Beaches Awards in 2018.
The Turtle Rehabilitation Centre located on Fitzroy Island runs daily tours around the facility, whereby you can see marine turtles up close and learn all about these magnificent creatures and the amazing work that is carried out at the Centre.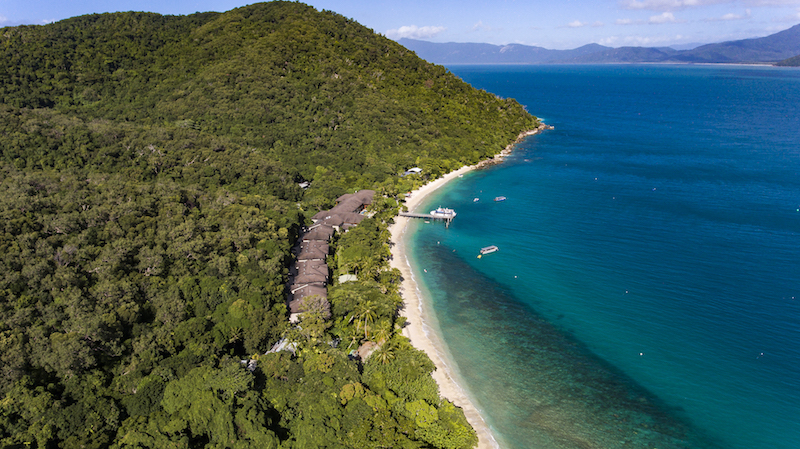 Mojo, Opal Reef
Opal Reef is a beautiful reef situated nearby to Agincourt Reef, and like Agincourt, Green and Hawksbill Turtles frequent this reef during late Spring/early Summer. Loggerhead and Olive Ridley Turtles may also be spotted here, though less regularly compared to Green and Hawksbill Turtles.
Green Island
Green Island is another popular choice amongst visitors to the Cairns region and is located approximately 45 minutes from the coast of Cairns via boat. Sea turtles are often spotted via snorkelling in the warm waters of the fringing reefs of Green Island.