When visiting Cairns a trip out to one of the beautiful tropical islands that are sprinkled amongst the Great Barrier Reef is a must.
Warm, tropical waters, lush green vegetation, plenty of activities and entertainment plus fully stocked bars, restaurants and cafe's give you everything you could want for a day on the reef or a more extended stay in one of the island resorts.
The best and most easily accessible islands for visitors staying in and around Cairns are Fitzroy Island and Green Island.
Both of these lush paradise escapes are just a short 45 minute boat ride from Cairns  Harbour, with many local companies offering day trips and other package deals.
Although the two islands have a lot in common they are also very different, each catering to visitors looking for two different types of getaways. So it's important you know what to expect before you book.
Fitzroy Island is a much quieter and larger island offering the opportunity to escape the crowds and enjoy your own piece of paradise. It is also a favourite amongst locals looking for a quiet weekend away.
Green Island offers more for those travellers who enjoy guided tours and has more shops, restaurants and bars. It is very popular with tourists on a day trip to the reef especially Japanese and Korean travellers.
Let's take a closer look at some of the Pro's and Con's of each island.
Beaches
These islands offer very different beach experiences. Green Island has golden sandy beaches that are mostly full during the day. All the beaches are easily accessible and you can walk around the entire island in 20 minutes.
Fitzroy Island has 3 great beaches just a short stroll from the resort. Most of the beaches are coral which some visitors don't enjoy, but if you want to relax and escape the crowd in perfect turquoise waters, with great snorkelling just off the shore then this is a great option.
Fitzroy Island is also home to Nudey Beach (show below) which was voted #2 for Australia's best beaches  and one of Far North Queensland's most iconic beaches.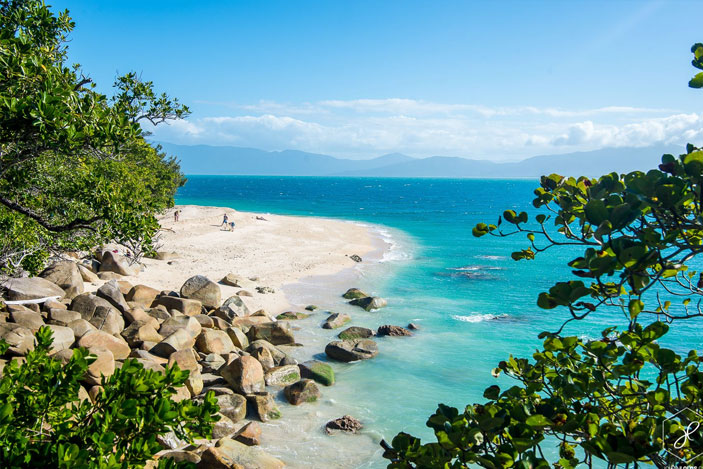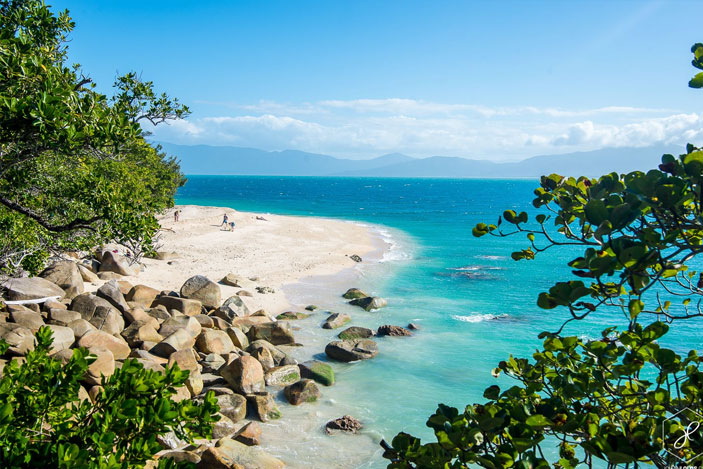 National Park
Both islands are declared National Parks.
Close to the North Queensland mainland, Fitzroy Island National Park features rugged, diverse landscapes of granite outcrops, open woodlands, rainforest, mangroves and coral beaches, we often say that it's where the rainforest meets the reef.
Green Island is also a National Park and is said to be home to over 120 native plant species, colourful bird life and surrounded by coral gardens and marine life to explore. It's the only coral cay on the Great Barrier Reef with a rainforest growing on it.
Size
Green Island is a small tropical island of just 12ha. Everything is very close and handy yet this can cause some overcrowding on busy days. Fitzroy island in comparison is very large at 339 ha. This offers many chances to explore on one of the 5 main hikes and bush walks that cater to people of all ages and fitness levels.
Locals Tip: The lookout from the top of the Lighthouse walk offer amazing 360 degree views of the Fitzroy Island and the surrounding Coral Sea.
Accommodation
Both islands have high quality, luxury resort style accommodation options. There are plenty of bars, restaurants and activities available to guests and you won't find it hard to relax from your balcony.
Prices vary quite a lot. Fitzroy Island has 4-star suites that can start at $450/night but also have bungalows and basic rooms from around $150/night. Green Island resort accommodation starts from around $490/night and luxury options available at $650 per night.
For budget travellers or those that enjoy the great outdoors Fitzroy Island also offers camping options.
Day Trips
Both islands have multiple operators running day trips to the islands and the journey is a 45 minute boat ride from Cairns Harbour. Packages can also include activities and meals.
For more information see getting to Fitzroy Island.
Activities
Both islands offer lots of great activities and equipment hire to keep you and any children entertained all day long.
Fitzroy Island
Green Island
Snorkeling
Snorkeling
Diving
Glass bottom boat
Sea trampoline
Diving
Kayak
Helicopter Tour
Stand up paddle
Windsurf
Great Summit Walk
(lighthouse, rainforest, woodland)
Crocodile Park
Turtles Rehab Centre
Swimming pool
Swimming pool and in pool bar for guests
Massage
Massage for guests
SeaWalker

Dining
Green Island offer many restaurants and snack bars for both day trippers and resort guests including:Dining:
Emeralds Restaurant and Bar serving up delicious tropical cuisine
The Canopy Grill is a casual alternative for an informal and inexpensive a la carte lunch
Little Bites offers snack and drinks from 9am to 4:30pm daily
Fitzroy Island offers two great eating options for you to choose from:
Foxy's bar has a delicious, casual cafe style food menu, including a kid menu and large selection of local and imported beers, wine and soft drinks. Plus an amazing cocktail menu and coffees!
Zephyr Restaurant is open everyday for buffet breakfast with fresh juice and coffee. When the sun goes down the outdoor terraces come alive with diners enjoying the alfresco settings for a la carte dining.
Reef Trips
Although both islands are surrounded by rich marine life and tropical coral, if you have the time it's highly recommended that you do a day trip to one of the outer reefs.
Both Fitzroy Island and Green Island have reef tours departing daily and all inclusive packages start from around $165. These packages include:
Travel to the Outer Great Barrier Reef on-board our air-conditioned catamaran
Tea and coffee on boarding the vessel
Informative presentation hosted by our marine naturalist
4 hours at the outer reef pontoon
Tropical buffet lunch including prawns, hot dishes, salads and tropical fruit
Guided coral viewing from our semi-submersible vessel and glass bottom boat
On-board touch tank to experience unique marine life up close
All snorkelling equipment and expert instruction
Snorkelling enclosure with rest and view station's
Underwater observatory
Fish feeding presentation
Freshwater showers and change rooms
Full bar facilities (items at an additional cost)
Tea and coffee prior to pontoon departure
I hope this comparison has helped you get a better idea of your options and which island escape is better suited for you.