**Updated August 2021**
When visiting Cairns, a trip out to one of the beautiful tropical islands that are sprinkled amongst the Great Barrier Reef is a must.
Warm, tropical waters, lush green vegetation, plenty of activities and entertainment plus fully stocked bars, restaurants and cafe's give you everything you could want for a day on the reef or a more extended stay in one of the island resorts.
Two of the best and most easily accessible islands for visitors staying in and around Cairns are Fitzroy Island and Green Island.
Both of these lush paradise escapes are just a short 45-minute boat ride from Cairns Harbour, with many local companies offering day trips and other package deals to let you get your exploration started.
Each island offers its visitors a truly unique experience in the heart of the Coral Sea. Keep reading to learn more about each island!
Beaches
Tropical islands and beaches just go together, don't they? And both of these islands do not disappoint when it comes to their beaches.
The beach experience differs between the islands, with Green Island's golden sandy beaches offering an inviting place for you to spend an afternoon beach session. All beaches on the island are easily accessed and you can walk around the entire island in around 20 minutes.
On Fitzroy Island, there are 3 beaches, each of which are located just a short stroll from the resort. Most of the beaches on Fitzroy are coral beaches, which is quite different compared to sandy beaches. One of these beaches – Nudey Beach, is not only a great place to escape to and spend an afternoon – it was also crowned as Australia best beach in 2018!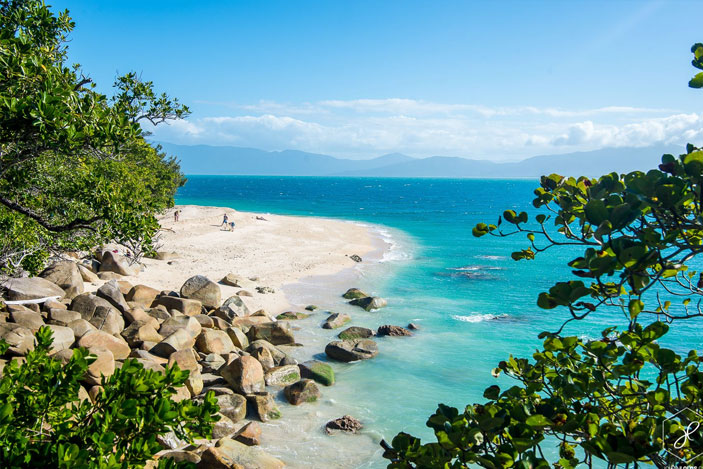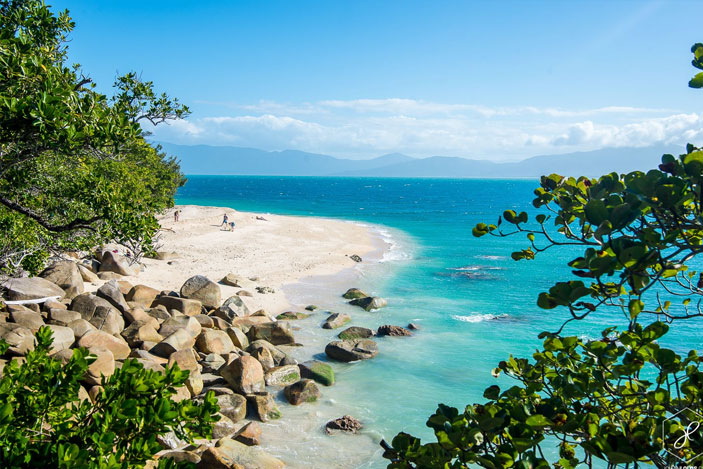 National Park
Both islands are declared National Parks – and if you prefer to stay dry, exploring these unique landscapes is a great way to do so.
Close to the North Queensland mainland, Fitzroy Island National Park features rugged, diverse landscapes of granite outcrops, open woodlands, rainforest, mangroves, and coral beaches, which can all be easily explored on foot. Often referred to as the place where the rainforest meets the Reef, you can venture through these diverse landscapes on any of the several walking trails on the island. Learn about the military history of the island as you make your way to the summit where you will be rewarded with spectacular views of the Coral Sea that surrounds the island.
On Green Island you can discover the landscape and explore the flora and fauna that inhabits the National Park very easily. Interestingly, Green Island is a coral cay, and the only one on the Great Barrier Reef that has a rainforest growing on it. You can explore the rainforest on a self-guided walking tour that usually takes around 45 minutes to complete. Along the way you might spot the colourful birds and 120 native plant species that call Green Island home.
Size
The islands are very different in size.
Green Island is a small tropical island, around 12ha in size. This can be handy as everything is in close proximity, and you can discover so much of the island very easily.
Fitzroy Island is larger in size at 339ha. The resort and facilities are all located within a short walk of each other.  While the rest of the island offers you a place to explore and discover the area.
Locals Tip: The lookout from the top of the Lighthouse walk offer amazing 360-degree views of the Fitzroy Island and the surrounding Coral Sea.
Accommodation
Both islands have high quality, luxury resort style accommodation options. There are plenty of bars, restaurants and activities available to guests and you won't find it hard to relax from your balcony.
Green Island Resort offers the accommodation on the island, with a range of suites that can sleep up to 4 people each. There is also the option for connecting rooms, to cater for larger groups.
Fitzroy Island offers a larger range of accommodation options catering to a wide range of budgets, with suites, bungalows, basic rooms and camping all available on the island.
Day Trips
Both islands have multiple operators running day trips to the islands and the journey is a 45-minute boat ride from Cairns Harbour. Packages can also include activities and meals.
For more information see getting to Fitzroy Island.
Activities
Both islands offer lots of great activities and equipment hire to keep you and any children entertained all day long.
| | |
| --- | --- |
| Fitzroy Island | Green Island |
| Fitzroy Island Sports Hire – FISH | Snorkeling |
| Snorkeling & Guided Tours | Canoes and Kayaks |
| Glass bottom Boat | Glass bottom boat |
| Diving PADI, shore dives & outer reef | Diving |
| Sea Kayaking | Outer Reef Day Tours |
| Stand Up Paddle Boarding | Helicopter Tour |
| National Park Walks | Windsurfing |
| Turtle Rehabilitation Centre | Crocodile Park |
| Swimming pool &swim up pool bar for resort guests | Swimming pool |
| Outer Reef Day Tours | Massage |
| Fish Feeding | SeaWalker |

Island Dining
You'll certainly be well fed on either island, with each island offering restaurants, cafes and snack bars, including
Green Island dining options include:
Emeralds Restaurant and Bar serving up delicious tropical cuisine
The Canopy Grill is a casual café alternative for an informal and inexpensive a la carte lunch
The Café which is the perfect place to get your caffeine fix for the day.
Fitzroy Island offers three options for you to choose from:
Foxy's Bar and Café, which is a Pacific Islands bar situated on the beachfront. Offering casual café style food and kid friendly menu
Zephyr Restaurant overlooks Welcome Bay and is open every day for breakfast and when the sun goes down the outdoor terraces come alive with diners enjoying the alfresco setting for a la carte dining.
Resort Pool Bar is where you can enjoy a beverage or two from the inviting deck chairs or from the water itself in the swim up bar.
Great Barrier Reef Trips
Although both islands are surrounded by rich marine life and tropical coral, if you have the time, it's highly recommended that you do a day trip to one of the outer reefs.
Both Fitzroy Island and Green Island have reef tours departing daily and all-inclusive packages.
Depending on the package you choose some of the activities you may enjoy include:
Travel to the Outer Great Barrier Reef on-board our air-conditioned catamaran
Informative presentation hosted by our marine naturalist
A few hours at an outer reef platform
Tropical lunch including prawns, hot dishes, salads and tropical fruit
Guided coral viewing from our semi-submersible vessel and glass bottom boat
On-board touch tank to experience unique marine life up close
All snorkelling equipment and expert instruction
Snorkelling enclosure with rest and view station's
Underwater observatory
Fish feeding presentation
Freshwater showers and change rooms
Full bar facilities (items at an additional cost)
As you can see each of these tropical islands offers its visitors a wonderful place to discover this incredibly unique part of the world from. No matter which island you choose to go to, one thing is for sure – you won't be disappointed!