When it comes to a babymoon with your partner, it doesn't get much more relaxing than whisking yourselves away to a tropical island location, to indulge in some special time together before your baby arrives. Think balmy tropical weather, beautiful beaches, fringing coral reefs and rainforest vegetation… Ah, bliss!
Fitzroy Island is the perfect location for a babymoon in paradise, thanks not only to its positioning right in the heart of the Great Barrier Reef in Tropical Far North Queensland, Australia, but also because you can choose to kick back and do as little as you like and/or enjoy some of the activities Fitzroy Island Resort has to offer. Let's take a look now at why you should consider Fitzroy Island for your babymoon in paradise.
Amazing Location
Located just off the coast of Cairns in Tropical Far North Queensland you shall find exquisite Fitzroy Island, easily reached by a relaxing 45-minute Fast Cat ride from the Cairns Marina. Covered by an astonishing 97% National Park, including lush rainforest vegetation, and surrounded by fringing coral reefs (the Great Barrier Reef), Fitzroy Island is unbeatable when it comes to choosing an amazing, romantic babymoon location to enjoy and explore with your partner.
The Perfect Place for Rest and Relaxation
If all you're really chasing is an incredible tropical location at which you can put your feet up and rest before baby arrives, Fitzroy Island is definitely for you. Fitzroy Island is home to two main tropical beaches, specifically Welcome Bay and Nudey Beach (awarded the number one spot in Australia's Top 101 Beaches Awards for 2018!), which are lined with gorgeous coconut palms and warm, aqua ocean water, perfect for lounging about and relaxing with a good book.
Perhaps you might also like to lay back and relax by Fitzroy Island Resort's pool, complete with swim-up bar (think tropical mocktails!) as well as poolside foot massages on offer – heaven! Also open in the evening, you can take a romantic swim with your partner under the stars.
If you are looking for something a little more indulgent, you may wish to book an in-room massage for yourself or even a couples massage, for something extra special.
Easy Access to the Beautiful Great Barrier Reef
Uniquely situated right in the heart of the Great Barrier Reef, Fitzroy Island is the perfect babymoon location when it comes to easy exploring of this magnificent natural structure. With numerous options available when it comes to exploring with your partner, such as gentle snorkelling (straight from the shore of the island!), paddling around together in a double glass-bottom sea kayak or taking a glass bottom boat tour, there is something for everyone, no matter how adventurous (or not!) you are feeling.
Stunning Walking Tracks
Thanks to its amazing backdrop of National Park, including a mix of lush rainforest vegetation in addition to coastal woodlands, not to mention its array of incredible wildlife, Fitzroy Island is the ultimate location for gentle, romantic, tropical island strolls with your partner (depending on your stage of pregnancy and health/fitness level).
Whether you feel like something small and easy (such as a 5-minute track) or something a little longer and more adventurous, Fitzroy Island is teeming with stunning walking and hiking tracks, including the following two popular trails:
Nudey Beach Track (1km return, 45 minutes long)
As the name suggests, this trail works its way through National Park vegetation (including tropical rainforest) and shall see you and your partner arrive at the jaw-droppingly beautiful oasis of Nudey Beach – a stunning white beach accompanied by inviting, warm aqua ocean water (not to mention fringing reefs!) and framed by granite boulders and exquisite rainforest palms and vegetation. Nudey Beach is a must-see on your visit to Fitzroy Island!
Secret Garden Track (1km return, 45 minutes long)
In comparison to the Nudey Beach Track, the Secret Garden Track shall instead see you exploring the western side of Fitzroy Island's jetty. This area of the island is also bursting with natural beauty, including lush tropical rainforest vegetation in addition to giant granite boulders.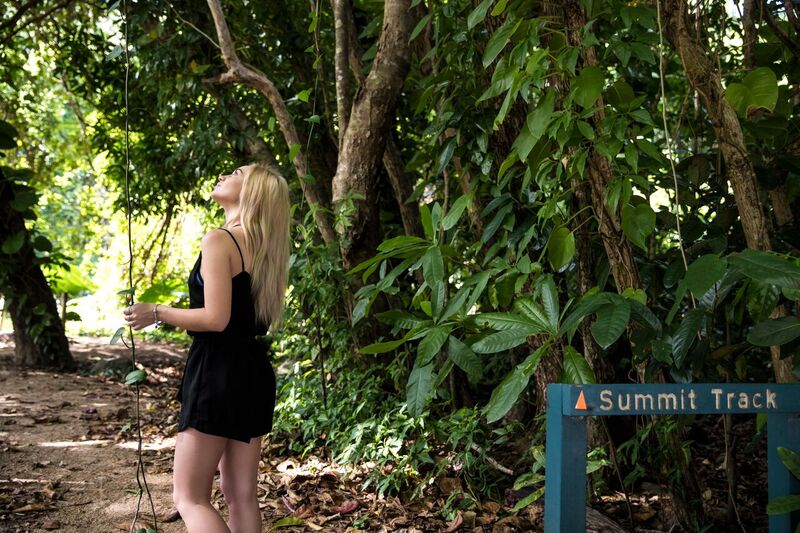 Fabulous Accommodation Options
Fitzroy Island Resort is unique in that it has accommodation options to suit everyone, from the budget-conscious (think camping) to those looking for something extra special and luxurious, such as our 4-bedroom Penthouse. Regardless of your preference, you can rest assured that all accommodation at the resort is tucked not only among lush tropical rainforest, but also situated right by the ocean – the perfect environment for a romantic babymoon in paradise.
We look forward to welcoming you and your partner on your dream babymoon very soon!