Cairns continues to grow as one of Australia's most popular tourist destinations and the main platform for exploring some of the most amazing natural sites this country has to offer. In this article we look at the best time to visit Cairns and what to do when you get there.
Once an isolated tropical town (that last one before venturing further north to Cape York) Cairns is now on the travel itinerary for most backpackers and holiday tourists alike. No matter which direction you travel you'll find stunning scenery and unique wildlife.
Of course the most popular tourist attraction accessible from Cairns is the Great Barrier Reef, which you must have on your itinerary for either a day trip to the reef or one of it's magical tropical islands, but we'll give you more information about specific island reef trips you can enjoy a little later. Because Cairns is much more than just the Great Barrier Reef.
The city itself is pulsing with energy and activities for families, couples and backpackers. The vibrant nightlife, tropical lagoon on the esplanade, relaxed vibe and friendly people make a day exploring the city and it surroundings an adventure in itself.
The city also boast world class food and hotel accommodation, but can cater just as well for travellers on a shoestring budget with many hostels and great value eateries to choose from.
So When Is The Best Time To Visit Cairns?
Cairns boasts a warm, tropical climate all year around, though the weather in the winter month is absolutely perfect.
Long sunny days and average temperatures that range between a minimum of 18 degrees and a maximum of 26 degrees, make it a perfect destination for visitors from southern states looking to escape the cold without dealing with the expense and hassle of going overseas.
This time of year is also much less humid, which can be quite intense during the summer wet season.
So we would have to say that the best time to visit Cairns would be around August. Booking your Cairns holiday then will mean you can expect clear blue skies and warm comfortable weather everyday.
But there are a lot of other reason that make August the best time to visit Cairns and we'll look at some of these now.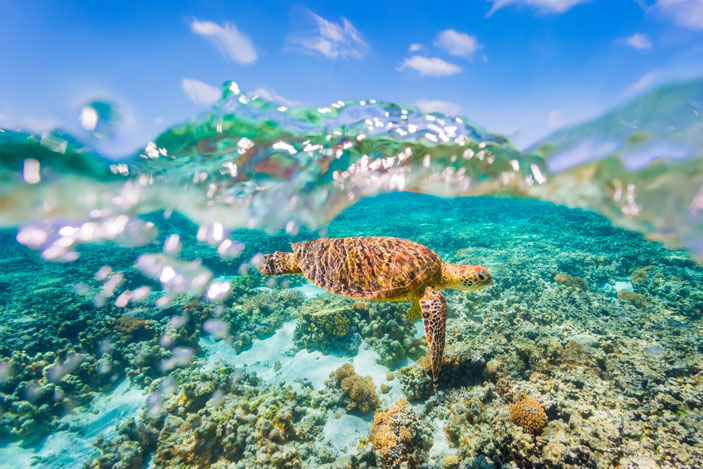 Avoid Stinger Season
When you think of Cairns you think of clear blue oceans and warm blues skies but during the months between November and May it is stinger season in Cairns. This is Jellyfish breeding season and many dangerous stingers are found in close to shore so you must either wear a protective stinger suit or swim in one of the stinger enclosures found on most beaches. This is not a major issue as there are still many great swimming holes and creeks to enjoy a refreshing dip, and the Great Barrier Reef and surrounding tropical islands are generally free from stingers during these months also.
But just to be safe we find coming in August avoids this small inconvenience together.
Low Rainfall
Yes we have spoken about the perfect climate during August, but this time of year also historically receives the lowest rainfall in Cairns. This is good to know because being in a tropical climate the wet season can bring with it large amounts of rainfall. In fact almost all of the yearly rainfall experienced in Cairns falls during the summer wet season.
Great Time To Visit A Tropical Island
August really is the best time to experience your very own tropical island paradise escape. The warm sunny days, the stinger free calm blue waters, the comfortable nights and the chance to escape the School Holiday crowds means August is the time to book.
Whether you want to enjoy a day trip or spend  a few nights living your tropical island fantasy one island stands out amongst the rest as a must visit.
Fitzroy Island is a favourite amongst locals and attracts less overseas and day tripping tourists than its smaller counterpart Green Island. Three companies run day trips to Fitzroy Island from Cairns and it is just a short 45 minute ferry ride until you step onto the white coral beaches of this amazingly scenic island retreat.
Boasting numerous accommodation options from a 5 star resort hotel to budget camping options, Fitzroy Island caters to all tastes and budgets.
They also offer full scuba diving and watersports hire plus glass bottom boat tours so you can dive in and snorkel amongst the colourful great barrier reef that's brimming with marine life just 5 meters of the beach, or stay dry and witness the full wonder of this underwater wonderland from the comfort of the Glass Bottom Boat viewing deck.
After a full day of activities relax with a cocktail and nice dinner at one of the island's restaurants and bars or visit the small grocery store and make a home cooked meal in your fully contained bungalow.
The island's proximity to Cairns make it an ideal option for those visiting on a limited timeframe as well.
How Much Time Do You Need?
There is so much to see and do in Cairns that ideally you would want to spend as much time as you can, but even over a long weekend away you can fit in a trip to the reef, float above the rainforest on a the Kuranda Skyrail and enjoy a night or two at one of the city's many bars, restaurants and clubs.
So escape the winter cold down south and discover what the world already knows about one of Australia's most spectacular holiday destinations.
If you're looking for more things to do while visiting cairns make sure you check out our guide.