The thing that attracts many people to snorkelling is the fact that you don't need a dive certificate or any heavy equipment to experience the immense beauty that lies just below the ocean's surface. You just need to grab some fins, and mask and snorkel and off you go. The feeling of gliding through the warm, clear water and getting up close and personal with some amazing sea life is truly breathtaking.
Here in Queensland we are especially privileged to be home to some of the most spectacular snorkeling sites in the world. Below we will share with you what we believe are the best snorkeling sites in Queensland.
Tangalooma Wrecks, Moreton Island
Moreton Island is 40 km off the coast of Brisbane and home to the popular Tangalooma Wrecks.
The Tangalooma Wrecks are made up of 15 deliberately sunken ships that were originally placed in 1963 to form a breakwater for local fisherman. The wrecks have since evolved to become a popular snorkeling destination for both tourists and locals.
The site can be reached by snorkeling straight from the beach and are home to over 175 species of tropical fish such as lionfish, kingfish and yellowtail. On your snorkeling adventure through the wrecks you will also have the chance to spot moray eels, turtles, dolphins and stingrays.
This unique environment plus the ease of access make the Tangalooma Wrecks high on the must do list for all snorkelers.
Fitzroy Island, Cairns
The Great Barrier Reef is the world's largest coral reef system and a snorkeling mecca. Cairns has long been known as the gateway to the Great Barrier Reef and when in Cairns there is no better place to experience snorkeling the reef than from Fitzroy Island.
Fitzroy Island is a tropical Island paradise just a short 45 minute boat ride from the Cairns Marina. The Island is 97% national park, made up of tropical rainforest which make it the perfect backdrop for your snorkeling experience.
The beaches on Fitzroy Island including Welcome Bay and Nudey Beach are surrounded by colourful coral reef just meters from the shore, making it easily accessible and safe for even children and beginner snorkelers.
For the more experienced and adventurous snorkelers you can venture further afield or take part in a kayak tour where you will be able to access the more remote and stunningly beautiful fringing reef systems.
While snorkeling the warm waters around Fitzroy Island you will find yourself side by side with an abundance of unique sea life including Clown Fish ( Nemo), Gropers, Cod and many Sea Turtles.
Snorkeling these lush coral reefs within the laid back tropical vibe of Fitzroy Island is the ultimate way to experience the Great Barrier Reef.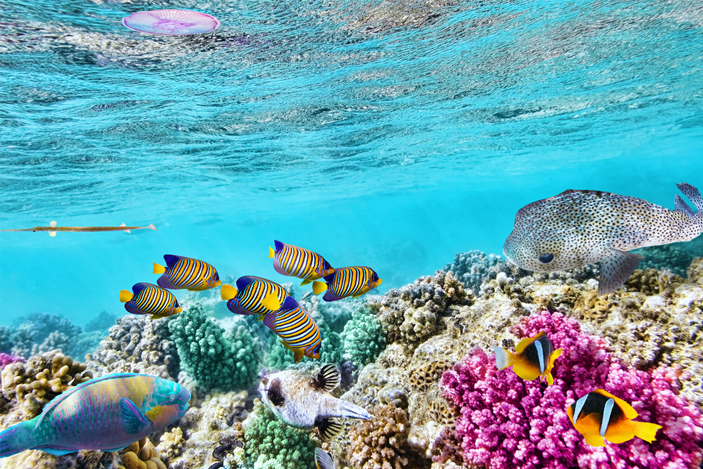 Lady Elliot Island, Bundaberg
Lady elliot Island is 80km northeast of Bundaberg and is only accessible by flights departing from either Bundaberg, Brisbane or the Gold Coast. The Coral Cay surrounding Lady elliot is the starting point for the Great Barrier Reef and offers amazing snorkeling sites for both beginners and more advanced snorkelers.
The calm, clear waters of The Lagoon on the eastern side of the Island are perfect for children and novice snorkelers with enough colourful coral, tropical fish, clams and turtles to keep you entertained for hours.
On the western side of the Island, Coral Gardens and Lighthouse have deeper waters for the more experienced snorkelers. Here you will not only find the beautiful coral and tropical fish but will likely spot the Mega Fauna such as dolphins, whales, reef sharks, turtles and manta rays.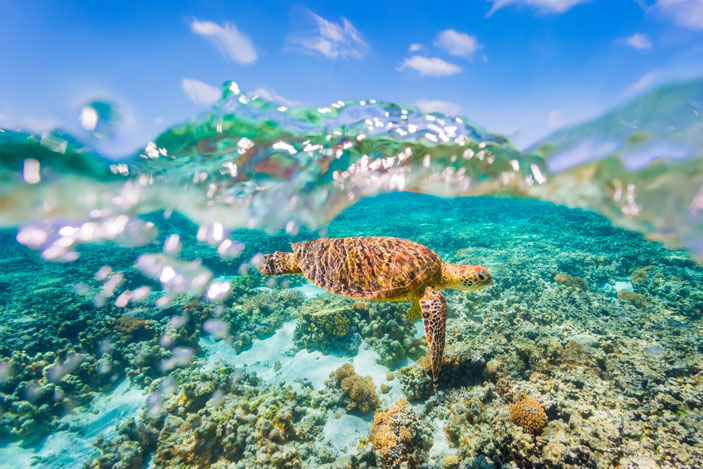 Magnetic Island, Townsville
Magnetic Island is just a 25 minute boat ride from Townsville and is a popular day trip for both locals and tourists. Snorkeling at Magnetic Island is unique as it offers 2 snorkel trails.
Nellie Bay Snorkel Trail starts just 100m off the beach as is great for beginners. This trail takes you through a variety of different coral such as boulder, staghorn, cauliflower and lettuce as well as a plentitude of tropical fish.
Geoffery Bay Snorkel Trail starts 390m off the beach as is suited for stronger swimmers. It offers all the abundance of sea life as the Nellie Bay Trail with the added excitement of exploring the Moltke Wreck and the remains of a WWII fighter plane.
Both trails are outlined by surface floats which also offer flotation for snorkelers to rest when they need it.
Lowe Isles, Port Douglas
Lowe Isles is located 15km off the Port Douglas coast and is a protected coral cay made up of 2 small Islands. Woody Island is an uninhabited coral/mangrove Island and Low Island is a typical sandy coral cay.
Snorkeling at Lowe Isles will give you the opportunity to get up close to an array of tropical sea life including clownfish, sea cucumbers and reef sharks while exploring the 150 different species of both soft and hard coral. All this can be enjoyed straight from the lagoon beach.
Lowe Isles has been a research station since the 1920's and has strict visitor restrictions. which means you can indulge in your tropical Island snorkeling experience with only a small number of other people.
Queensland has so much to offer snorkelers of all ages and abilities, so whenever you choose to spoil yourself and visit one of the spectacular sites we've mentioned above you can be sure it will be a breathtaking experience you will never forget.