The world heritage listed Great Barrier Reef is a must see for all travellers to Queensland's sunny shores.
But with the world's largest living structure spanning over 2,300km in length, encompassing nearly 3,000 individual reefs, being home to over 900 islands and covering 5 major holiday regions, deciding what town to launch from and what reefs and islands to visit can be daunting to say the least. Find out more great facts about The Great Barrier reef that every traveller should know.
In this article we cover the main ports that you can access the Great Barrier Reef from and the best destinations to explore from each.

Port Douglas – Low Isles
Starting at the northern end of the Great Barrier Reef we have Port Douglas.
(The Great Barrier Reef stretches all the way to the northern tip of Cape York but is very hard to reach and there are not many options for tourist to visit the reef once you go north past Port Douglas.)
Port Douglas is a scenic little tropical town located about an hour's drive north from Cairns. There are a number of reefs and islands that can be accessed from Port Douglas but for those looking for an easily accessible island that offers a great family friendly reef trip and snorkelling options, Low Isles is definitely the pick of the bunch.
Located just 15 minutes boat ride from Port Douglas, Low Isles is made up of two land masses. One being an uninhabited mangrove island and the other a more frequently visited coral cay where you can relax on the beach or under the shade of a nearby tree.
The Low Isles is surrounded by 55 acres of tropical reef which makes the calm, warm, blue waters ideal for visitors new to snorkelling or swimming. There are around 150 types of hard coral and 15 species of more dominant soft corals that make snorkelling the Low Isles a real treat for all that visit.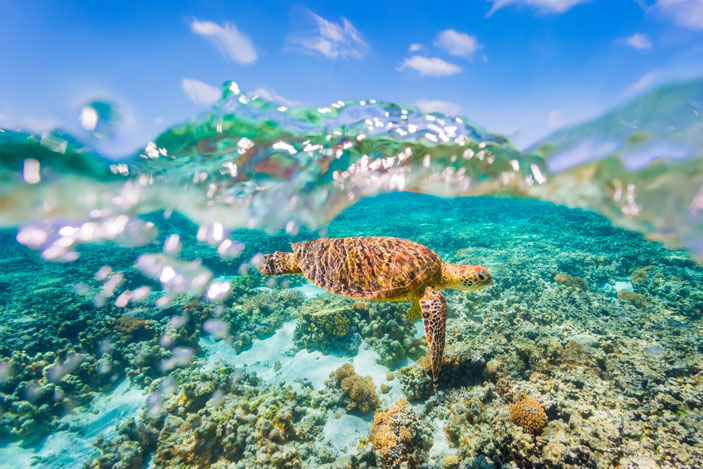 Cairns – Fitzroy Island
Long know as the premier gateway to the Great Barrier Reef, Cairns is the boarding point for many great inner and outer Barrier Reef expeditions. But we would have to say the best of all is Fitzroy Island.
Long held as a favourite island destination for locals, Fitzroy Island offers vast array of activities and accommodation to cater for all types of traveler in all types of budgets.
Located just a short 45 minute boat ride from Cairns Fitzroy Island is different to most of the coral cays found is this region as it is an actual granite island, making for great hiking and contrasting landscapes in different areas of this 339 hectare island ( 324 hectares of which is protected National Park.)
Fitzroy Island serves as the perfect destination for a relaxing island getaway, be that a day trip or a more extended  stay in one of the islands many accommodations options which include:
Camping
Resort Studios
Ocean Suite
Two Bedroom Apartments, and
Beach Side Cabins
All of which are available at very reasonable prices when compared to other Great Barrier Reef Islands.
Fitzroy also has plenty to do once you're there and unlike many other reef destinations that don't all require you to get wet. These include:
Several scenic hiking tracks that cater for ages, abilities and fitness levels
The world famous Sea Turtle Rehabilitation Centre
Sea Kayaking
Stand Up Paddle Boarding
Snorkelling
Glass bottom boat tours
Resort facilities including pool, bar, cafe, restaurant and other activities
The giant ocean trampoline
For a Great Barrier Reef destination that is easily accessible, affordable, full of activities  for kids and adults alike, yet still offers that untouched natural beauty you expect on the Great Barrier Reef, Fitzroy Island is your best choice.
Townsville – Magnetic Island
Although Townsville is the largest city in North Queensland (and also the unofficial capital) it is a little more limited in terms of options for visiting the Great Barrier Reef, though there are still some great that lie just off the coast.
Magnetic Island is one of those options.
Located just eight kilometers of Townsville, Magnetic Island is an inhabited island that has it's own community, yet still cater to many tourist and people looking for a quick and easy reef experience.
Magnetic Island sit within the world heritage listed great Barrier Reef but is unique in that it does not have the tropical rainforest that most of the other islands within the reef system display.
The Island offers beautiful, quiet, secluded beaches, rugged nature, abundant wildlife and plenty of opportunities to snorkel amidst reefs that trace the shoreline of Magnetic Island.
Some of the best snorkelling opportunities are found at Nelly Bay and Geoffrey Bay which is great for beginners and more advanced snorkelers alike.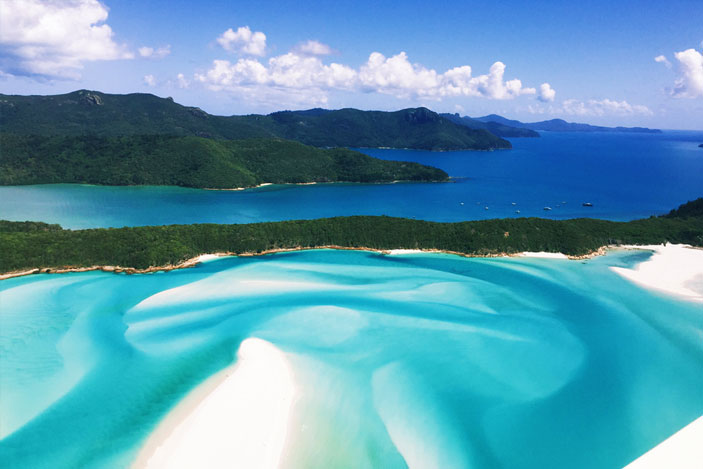 Airlie Beach – The Whitsunday Islands
Airlie Beach is the gateway to the Whitsunday Islands that offers a great launching pad to the some 74 tropical islands that litter the surrounding ocean.
From Airlie Beach you can easily take a day trip or book into a resort on one of the many islands that cater to visitors looking to escape the mainland and settle into island life for a little more rest and relaxation.
The waters in the Whitsundays are warm all year round and teeming with marine life. Nature lovers can find a secluded uninhabited island and take in the picturesque views that abound in the beautiful Whitsundays.
Some of the best islands to explore the Great Barrier Reef from include:
Hamilton Island
Hayman Island
Hook Island
Daydream Island
Long Island
The options above offer a great balance of easy access, good facilities, great snorkelling and beautiful blue waters that make up a true Great Barrier Reef experience. I hope this has helped you plan your journey into one of the 7 natural wonders of the world.
Book A Tour Today
Fitzroy Island is one of the best locations for viewing the Great Barrier Reef in Australia with reef snorkelling just a short paddle from the shore. With snorkelling and scuba diving options available, there's something for everyone.
If you're staying in Cairns then Fitzroy Island is just a short 45 minute fast cat right from Cairns and is a perfect day trip option for you to do on your stay in Far North Queensland. For best available prices we recommend you book online with directly with the resort operator, click here to find out more.