If you're short on time, you can still experience the beauty and adventure of Fitzroy Island in just one day.
This tropical paradise is located just a 45-minute ferry ride from Cairns, Australia, and offers a range of activities and attractions for visitors of all ages.
In this article, we'll provide a sample itinerary for a day trip to Fitzroy Island, including suggestions for activities, meals, and relaxation.
So, if you've only got a day, here's how you should spend 24 hours on Fitzroy Island.
A day on Fitzroy Island
Morning: Arriving at Fitzroy Island
Your journey to Fitzroy Island begins with a scenic ferry ride from Cairns. The ferry departs from the Cairns Marina at various times throughout the day but you may as well get an early start at 8:30 am. Make sure to arrive early to check in and secure your seat with plenty of time to spare. During the ferry ride, you'll have the opportunity to take in the stunning views of the Great Barrier Reef and the surrounding tropical waters.
Once you arrive at Fitzroy Island, take a moment to admire the island's natural beauty, especially as you sail into Welcome Bay, one of the most naturally stunning entrances you could ever make.
With crystal-clear waters, white sand beaches, and lush rainforest, the island is a true paradise. You can start your day with a swim or snorkel at the island's Nudey Beach, which has been voted the best beach in Australia in the past.
Mid-morning: Hiking and exploring the island
After a refreshing swim or snorkel, it's time to explore the island. Fitzroy Island has several hiking trails that offer stunning views of the ocean and rainforest. One of the most popular trails is the Lighthouse Road, which takes you to the island's historic lighthouse. The trail is approximately 3.6 km long and takes about 2-3 hours to complete, depending on your pace.
If you prefer a shorter hike, you can try the Secret Garden Track, which is a 1.2 km loop that takes you through the rainforest and offers beautiful views of the island's coast.
Here are some more walking trails and exploration info.
Lunchtime: Dining options on the island
After a morning of adventure and exploration, it's time for lunch. Fitzroy Island has several dining options to choose from, including Foxy's Bar, which offers casual dining and drinks in a relaxed atmosphere. The menu includes a range of options from burgers, pizza, seafood to vegetarian options.
Alternatively, you can dine at the Zephyr Restaurant, which features a diverse menu of international cuisine, including seafood, steaks, and vegetarian options. Both restaurants offer indoor and outdoor seating with ocean views.
Afternoon: Snorkelling and kayaking
After lunch, it's time for more water-based activities. Fitzroy Island is known for its incredible snorkelling opportunities, with the Great Barrier Reef just a short distance away. You can rent snorkelling gear from the Fitzroy Island Sports Hub or bring your own, and explore the colourful coral reefs and marine life.
If you prefer kayaking, you can rent a kayak and explore the island's coastline at your own pace. The kayaks are available for rent from the island's dive shop and can be rented by the hour or for the whole day.
If you would prefer to stay dry but still get to know some of the water's most well-known creatures, then we recommend visiting the Turtle Rehabilitation Centre. This is where sick and injured sea turtles are nursed back to health. Many of the turtles are able to be released back to their natural habitat. And you have the opportunity to meet plenty of the residents during your visit.
Evening: Sunset and relaxation
As the day draws to a close, it's time to relax and enjoy the island's natural beauty. One of the best ways to do this is by watching the sunset from the island's Nudey Beach. This secluded beach is the perfect spot to unwind and take in the stunning colours of the sunset.
For dinner, head back to the island's dining options. You can try out the Foxy's Bar or Zephyr Restaurant, or if you prefer a more laid-back experience, you can grab some takeaway from the General Store and enjoy a picnic on the beach.
Nighttime: Stargazing and night activities
As night falls, the island takes on a whole new character. The stars come out in full force, making it an ideal location for stargazing. The island has very little light pollution, making it a great spot to observe the stars and constellations.
If you're up for more adventure, you can book a night-time guided snorkelling tour, where you can witness the reef come alive with different marine creatures, like coral polyps and plankton.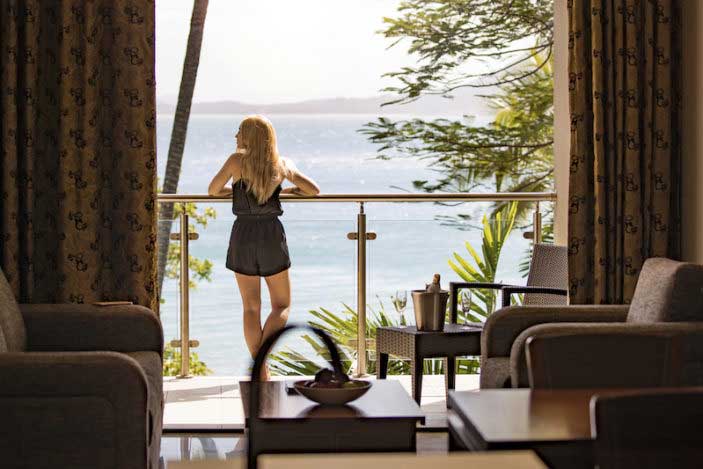 Accommodation on the island
When you spend the night on the island, there are several accommodation options to choose from. The Fitzroy Island Resort offers a range of accommodations, from ocean suites to beach cabins, all with stunning ocean views. You can also choose to camp on the island with your own tent or in one of the island's permanent tents. Fitzroy Island is a super budget-friendly holiday destination, so if you have more time on your hands, there are affordable accommodation options for you. Check out the current packages available now. 
Take a trip today
Fitzroy Island is a true paradise and offers a range of activities and attractions for visitors of all ages. While a 24-hour trip may not be enough time to experience everything the island has to offer, it is certainly enough time to get a taste of what makes Fitzroy Island so special. With its crystal-clear waters, white sand beaches, and lush rainforest, Fitzroy Island is a must-visit destination for anyone travelling to Cairns.
So, what are you waiting for? Book your ferry tickets today and get ready for a day of adventure and relaxation on one of Australia's most beautiful islands.